GAT SPORT Announces Signing Its Newest Premier Athlete, 'The Texas Oak' IFBB Pro Logan Franklin
Press Release
•
May 24, 2022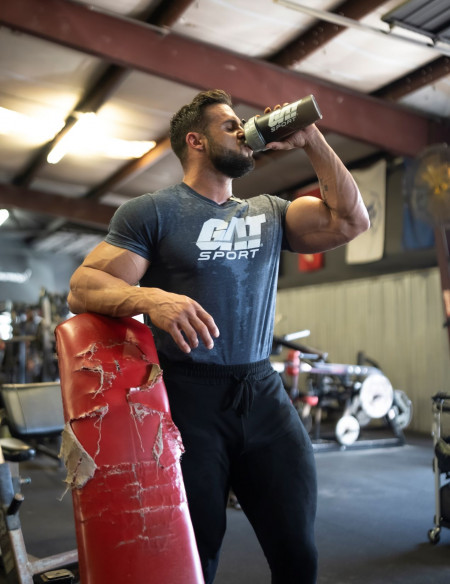 MONROE, Conn., May 24, 2022 (Newswire.com) - GAT Sport is pleased to announce it has officially signed IFBB Pro Logan Franklin as a TeamGAT Athlete. At 31, 6' tall and with a competition weight of 230 lbs., Franklin is seen as an industry rising star.
GAT Sport President & CEO Charles Moser made the announcement: "We're excited by having Logan on board as the newest member of the GAT SPORT family and thrilled to have him representing us. Many in the fitness community are comparing him to Arnold Schwarzenegger in terms of his weight, symmetry, and overall form." GAT Sport continues to diversify its global brand strategy, encompassing some of the best functional athletes on the planet who utilize its products as part of their nutritional plans.
Logan began training at twelve, developing a lifelong commitment to bodybuilding. Upon completing his five-year tour of duty with the US Army, he continued to pursue his passion for the sport and was invited to participate in a 2014 Mr Olympia photo shoot, where he discovered his physique was truly stage-worthy.
Two months later, Franklin won the overall NPC National Championship, earning his IFBB Pro card. Competing steadily over the next six years, he placed as high as fourth in the Arnold Classic. There, he received a personal congratulatory letter from Arnold for winning Best Poser. He went on to finish second in the 2021 Shawn Ray Hawaiian Classic, earning his second Classic Physique Pro victory. Franklin is currently on track to make a serious run at the 2022 Mr Olympia.
Franklin is likewise impressed by GAT and its products, saying, "GAT is my regimen. It's a longtime industry leader with an undisputed global track record. I'm very excited to motivate and inspire even more people around the world via the fiercely loyal GAT community, GAT products and their amazing reach."
Originally from Minnesota, Logan now resides in Texas and is currently training with top-selling GAT products such as the revolutionary GAT Nitraflex® seething intensity pre-workout, Pumptropic, FLEXX EAAs and highly acclaimed JetMASS.
Franklin brings his highly focused military mindset to every training session and every event: "I'm really obsessed with being the very best I can be, and to inspire others to compete harder in life. Every day!"

About GAT Sport
Charles Moser, President & CEO, has over 20 years experience in training and supplementation formulation, design and marketing. Under his leadership, GAT Sport creates edgy, forward-looking products that propel athletes worldwide, and the industry. Designing with clinically researched ingredients and university studies, he produces and markets clinically tested, efficaciously-dosed formulas that become legendary. Charles is diversifying this highly respected global brand with high-energy workout products and those for repair and recovery after training, plus general health & fitness. He drives TeamGAT to compete harder every day and on every level. Follow Charles on Instagram @GAT_CEO_Charles_Moser.

https://instagram.com/logan_franklin 989k Followers
https://facebook.com/LoganFranklinOfficial 118.4k Followers
twitter.com #loganfranklin
Source: GAT Sport