GAT Announces Its Newest TeamGAT Athlete — IFBB Pro Regan Grimes
GAT SPORT announces signing IFBB Pro Regan Grimes, its newest premier IFBB Pro Open Bodybuilding Division athlete.
Press Release
-
updated: May 4, 2020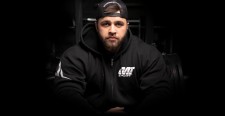 MONROE, Conn., May 3, 2020 (Newswire.com) - Regan Grimes has defined a new physique aesthetic considered to represent The Future of Bodybuilding, and at 6' tall and 250 lbs., is thought to be one of the top bodybuilders of our time.
IFBB Vancouver Pro - 2nd, Men's Open Bodybuilding. IFBB Tampa Pro, 6th, Men's Open Bodybuilding. 1st, IFBB New York Pro Men's Classic Physique & Overall. 2018: Winner, Men's Classic Physique - Mr. Olympia Qualification. 8th, Mr. Olympia – Men's Classic Physique. 2019: IFBB Romania Muscle Fest Pro – 3rd, Men's Open Bodybuilding. And, 3rd in the IFBB Japan Pro – Men's Open Bodybuilding. For 2020, Regan says, "I hope to Compete at the 2020 Mr. Olympia! I'm currently holding second in points!"
GAT Sport President & CEO Charles Moser made the announcement at GAT Sport headquarters today. "We've all been impressed by Regan's swift rise to power, and are thrilled to sign him as a TeamGAT Athlete. GAT Sport continues to diversify its global brand strategy to encompass some of the best functional athletes on the planet who utilize GAT Sport products as part of their nutritional plans.
Grimes has been equally impressed by GAT, saying, "GAT is an industry leader and I'm excited to be able to reach more people around the world, motivating, inspiring and sharing knowledge using GAT products."
As a premier IFBB Pro Open Bodybuilding Division athlete sponsored by GAT Sport, 26-year-old Grimes is based in Lindsay, Ontario, Canada. He's currently training with best-selling GAT products such as its legendary Nitraflex® seething intensity pre-workout, FLEXX EAAs, Jetfuel Original, and JetMASS post-workout.
He's a natural fit for GAT. Grimes has the Compete Harder mindset: "I go into shows knowing I've done my absolute best to prepare. I always know that no matter what the show outcome, I need to keep getting better, and come back again better and stronger." Leveraging his years of training and transformational coaching, Grimes does an amazing job of showcasing his incredibly well-defined physique and training techniques to rally his fan base.
About GAT Sport
Charles Moser, President & CEO, has over 20 years experience in training and supplementation formulation, design and marketing. Under his leadership, GAT Sport creates edgy, forward-looking products that propel athletes worldwide, and the industry. Designing with clinically researched ingredients and university studies, he produces and markets clinically tested, efficaciously-dosed formulas that become legendary. Charles is diversifying this highly respected global brand with high-energy workout products and those for repair and recovery after training, plus general health & fitness. He drives TeamGAT to compete harder every day and on every level. Follow Charles on Instagram @GAT_CEO_Charles_Moser.
Regan Grimes
instagram.com/regangrimes 1.2m Followers
facebook.com/regangbodybuilding 75.6k Followers
Source: GAT Sport
Share:
---
Categories: Sports, Fitness, and Recreation
Tags: Bodybuilding, GAT Sport, Regan Grimes
---