GAST Clearwater Appoints Damian Georgino to Its Board of Directors
Press Release
•
Mar 10, 2023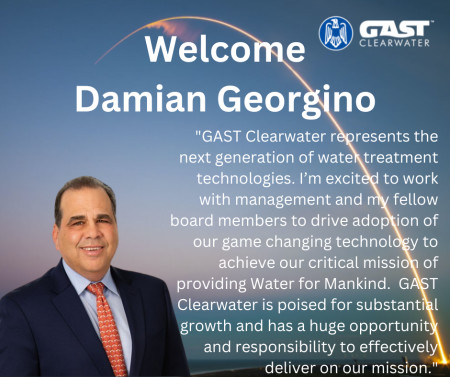 NEW YORK, March 10, 2023 (Newswire.com) - GAST Clearwater, a next-generation water treatment company, artificial beach, urban lagoon specialist, and property developer, announced today the appointment of Damian Georgino to its Board of Directors effective March 8, 2023.
"We are thrilled that Damian Georgino is joining our Board," said Kevin Gast, Co-Founder & CEO of GAST Clearwater. "As a leading expert in the water sector, Damian's reputation precedes him. Over his 30-year career, he has held various leadership roles and provided counsel to some of the largest water companies, and led some of the most significant transactions in the sector. Damian's experience, expertise, and guidance will be especially critical to us as we work to deliver on our mission of providing Water for Mankind."
"Water scarcity is a reality today, making the principles of Recycle, Reuse & Recirculate more relevant than ever," said Damian Georgino. "GAST Clearwater represents the next generation of water treatment technologies. I'm excited to work with management and my fellow board members to drive adoption of our game-changing technology to achieve our critical mission of providing Water for Mankind. GAST Clearwater is poised for substantial growth and has a huge opportunity and responsibility to effectively deliver on our mission."
Mr. Georgino has advised U.S. and international corporations, including Fortune 50 companies, financial institutions, private equity funds, and other investors in complex transactions involving water and wastewater, energy, industrial/manufacturing, infrastructure, technology, and natural resource projects. In addition, he has advised clients on transactions, including investments, financings and deal structures, risk management, and compliance, as well as operational matters. Damian has significant experience in buy-and-build and hyper-growth strategies and structures, financing, including project finance, and operations primarily focused on the water, wastewater, energy, technology, infrastructure, and environmental industries. He has successfully led numerous infrastructure transactions, including water and wastewater privatization, concessions, affermage, and P3/PPP projects, in the U.S. and internationally.
Previously, Damian was a managing partner of a permanent capital provider, a strategic partner for a multibillion-dollar private equity fund, a senior advisor to a private equity firm, and a corporate development executive and Chief Legal Officer of several high-profile/high-growth public companies.
About GAST Clearwater
GAST Clearwater is a U.S.-based, next-generation water treatment company with a mission to provide Water for Mankind one drop at a time. Operating in various industries and markets from Real Estate, Wastewater Treatment, Municipal Potable Water, and various others, focusing on the recovering and recycling of different waters in a centralized or decentralized way.
Forward-Looking Statements
This press release contains "forward-looking statements" within the meaning of the safe harbor provisions of the U.S. Private Securities Litigation Reform Act of 1995. Forward-looking statements include, without limitation, any statement that may predict, forecast, indicate, or imply future results, performance, or achievements, and may contain words such as "believe," "anticipate," "expect," "estimate," "intend," "project," "plan," or words or phrases with similar meaning. Forward-looking statements should not be read as a guarantee of future performance or results and will not necessarily be accurate indications of the times at, or by, which such performance or results will be achieved. Forward-looking statements are based on current expectations, forecasts and assumptions that involve risks and uncertainties that may cause our business, strategy, or actual results to differ materially from the forward-looking statements. We do not intend and undertake no obligation to update any forward-looking statements, whether as a result of new information, future events or otherwise, except as may be required by applicable law. Investors are referred to our filings with the SEC for additional information regarding the risks and uncertainties that may cause actual results to differ materially from those expressed in any forward-looking statement.
Source: GAST Clearwater