GAST Clearwater Announces the Appointment of Mr. Ben Davis to Its Board of Directors
Press Release
•
Mar 30, 2023
Veteran, serial entrepreneur brings decades of high growth, sustainability, and finance experience to the water treatment & recreational sector.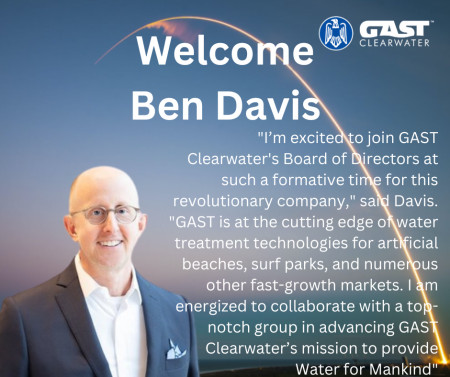 AUSTIN, Texas, March 30, 2023 (Newswire.com) - GAST Clearwater, a US-based next-generation water treatment company, artificial beach, and property developer, announced today the appointment of Mr. Ben Davis to the GAST Clearwater Board of Directors ("the Board") effective Feb. 24, 2023.
Ben brings 25+ years of entrepreneurial experience founding, growing, and advising companies, including in the water treatment technology space. His "Sponsored Alpha" approach develops platforms with subject matter experts in their respective fields. Current active interests in addition to GAST Clearwater include mobile/telehealth, consumer brands, biomaterials, specialty chemicals, and strategic advisory. Ben holds a BBA, M.S. Economics, and J.D. from Baylor University and serves on Baylor's Hankamer School of Business Advisory Board. He recently completed serving as General Chairman and on the Host Committee of the PGA Tour's Dell Technologies Match Play at Austin Country Club.
"Ben's experience leading and scaling sustainable, highly investable entities over the last 25 years speaks to his abilities and success rate, making him an ideal addition to GAST Clearwater's Board of Directors. I want to welcome Ben to the Board and look forward to trailblazing this exciting path ahead with him," said Mr. Kevin Gast, Co-Founder & CEO of GAST Clearwater.
"I'm excited to join GAST Clearwater's Board of Directors at such a formative time for this revolutionary company," said Davis. "GAST is at the cutting edge of water treatment technologies for artificial beaches, surf parks, and numerous other fast-growth markets. I am energized to collaborate with a top-notch group in advancing GAST Clearwater's mission to provide Water for MankindTM."
About GAST Clearwater:
GAST Clearwater is a US-based, next-generation water treatment company with a mission to provide Water for Mankind one drop at a time. Operating in various industries and markets from Real Estate, Wastewater Treatment, Municipal Potable Water, and various others, focusing on recovering and recycling different waters in a centralized or decentralized way.
Forward-Looking Statements
This press release contains "forward-looking statements" within the meaning of the safe harbor provisions of the U.S. Private Securities Litigation Reform Act of 1995. Forward-looking statements include, without limitation, any statement that may predict, forecast, indicate, or imply future results, performance or achievements, and may contain words such as "believe," "anticipate," "expect," "estimate," "intend," "project," "plan," or words or phrases with similar meaning. Forward-looking statements should not be read as a guarantee of future performance or results and will not necessarily be accurate indications of the times at, or by, which such performance or results will be achieved. Forward-looking statements are based on current expectations, forecasts and assumptions that involve risks and uncertainties that may cause our business, strategy, or actual results to differ materially from the forward-looking statements. We do not intend and undertake no obligation to update any forward-looking statements, whether as a result of new information, future events or otherwise, except as may be required by applicable law. Investors are referred to our filings with the SEC for additional information regarding the risks and uncertainties that may cause actual results to differ materially from those expressed in any forward-looking statement.
Source: GAST Clearwater