Gang Member: "The Way to Happiness Turned Me From a Life of Crime"
London's Metropolitan Police Service announced last month there were more than 9,000 knife crime incidents in London in the year ending April 2016. An open house at the Church of Scientology London provided the community with an effective tool to tackle this crime wave.
Press Release
-
Jun 29, 2016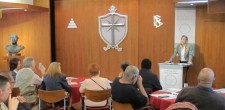 London, England, June 29, 2016 (Newswire.com) - A former gang member was the featured speaker at a crime prevention seminar at the Church of Scientology London. He spoke of surviving a stabbing and about his life—in and out of prison. And he told those attending the seminar how The Way to Happiness helped him turn his life around. His frank presentation made a visible impact on those attending the program at the Church's Queen Victoria Street headquarters.
Another young man spoke of being stabbed twice. He described how he cut all lines to his former friends, came to London to create a new life, and happened to walked into the Church of Scientology where he learned of The Way to Happiness. He enrolled on a course that helped him grasp and apply its principles and spoke of how positive he felt when he finished it. He could see purpose in his life. If he had been shown the book when he was young, he felt sure he would not have led a life of crime. 
Written by author and humanitarian L. Ron Hubbard, The Way to Happiness is a unique moral code—the first work of its kind based wholly on common sense. It appeals to its readers to apply its precepts in their daily lives.
And it has a very special message for inmates and ex-offenders. In the book's epilogue, Mr. Hubbard wrote:
"One can feel that things are such now that it is much too late to do anything, that one's past road is so messed up that there is no chance of drawing a future one that will be any different: there is always a point on the road when one can map a new one. And try to follow it. There is no person alive who cannot make a new beginning."
The Church of Scientology makes copies of The Way to Happiness available free of charge to community groups, educators and law enforcement​ along with an Educators Guide, posters and other materials. 
Several attendees originated wanting to use these materials to help address crime in their communities, including one who wants to deliver The Way to Happiness program in Wormwood Scrubs prison.
 The Church of Scientology London is an Ideal Scientology Organization, configured to provide the full services of the Scientology religion to its parishioners, while also serving the community with social betterment and outreach programs.
Source: ScientologyNews.org
Share:
---
Categories: Religion, Ethics, Gangs
Tags: Church of Scientology London, crime, crime prevention, gangs, intervention, knife crime, moral code, morality, The Way to Happiness
---