Gaming Bitcoin Alternative HYPER Sponsors 10 Game Servers on CashNCarry.info, Dedicated USB Staking Machines Launched
To celebrate 2016 the HYPER project is now running over 10 HYPER enabled game servers including CSGO, Counter-Strike: Global Offensive, Team Fortress 2, Insurgency, Nuclear Dawn, Left 4 Dead 2 and more on the CashNCarry platform. The official HYPER strategy and roadmap document was also recently updated and dedicated HYPER StakeBox staking machines have also been released.
Press Release
-
Jan 20, 2016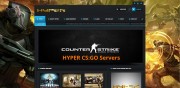 Los Angeles, California, January 20, 2016 (Newswire.com) - Almost 2 years old, HYPER is a low energy cryptocurrency designed for use in online games, MMOs, virtual worlds and more. Anyone worldwide can earn, spend and win HYPER on a decentralized network of HYPER game servers run by the community.
Fully funded by the HYPER team, cryptocurrency gaming platform CashNCarry.info runs over 10 HYPER enabled gaming servers where gamers worldwide can win HYPER playing games like CSGO, Counter-Strike: Global Offensive, Team Fortress 2, Insurgency, Nuclear Dawn, Left 4 Dead 2, and many more games. CashNCarry also host many HYPER monthly gaming competitions where anyone can win HYPER, as well as selling CSGO skins and keys for HYPER.
HYPER is also pleased to announce StakeBox USB HYPER staking machines available for purchase thanks to support from the dedicated StakeBox team, and new innovative merchant CryptoMercado that sells coffee and more for HYPER. HYPER is on both ShapeShift.io and Coinpayments which means any online store can easily integrate HYPER payments. Any merchants accepting HYPER that post in the bitcointalk thread are sure to see growth in traffic, interest and sales.
HYPER has a range of bounties available, including for an Electrum style lightweight HYPER wallet.
Any online game developer that integrates HYPER into their projects will receive free marketing, and instant access to a passionate community of cryptocurrency gamers. More information can be seen in the HYPER Goals and Strategy PDF.
The HYPER community has come together and a new HYPER team with independent members on tech support, social media marketing, PR, technical development, game server infrastructure maintenance and development, and much more has assembled itself in a very short time period.
HYPER's head developer recently posted a very large update on the bitcointalk forum listing most current HYPER games, services and merchants. The key focus of all future development plans is to ensure HYPER has a diverse and unprecedented ecosystem that provides many unique opportunities for gaming, trading and profit.
For more information please go to:
HYPER on bitcointalk: https://bitcointalk.org/index.php?topic=624651
Follow HYPER on twitter: http://twitter.com/hypercrypto
CashNCarry HYPER game servers and competitions at: http://cashncarry.info
Official HYPER website: http://hypercrypto.com
Dedicated HYPER staking machines from StakeBox: http://stakebox.com
Read the official HYPER strategy and Roadmap document: http://hypercrypto.com/wp-content/uploads/2015/07/HYPER-Goals-and-VIsion-Official1.pdf
Trade BTC with HYPER at: https://bittrex.com/Market/Index?MarketName=BTC-HYPER
Media Contact: hyperfuture@hypercrypto.com
HYPER is the source of this content. Virtual currency is not legal tender, is not backed by the government, and accounts and value balances are not subject to FDIC and other consumer protections. This press release is for informational purposes only. The information does not constitute investment advice or an offer to invest.
Share:
---
Categories: Finance, Games and Play, Business Finance, Cryptocurrency
Tags: Bitcoin, Blockchain, Cryptocurrencies, Digital Currency, Entertainment, Gaming, HYPER, Technology
---