Gamentio - 3D Poker, Teen-Patti and Rummy Launched on Web and Android
Press Release
•
Jan 5, 2016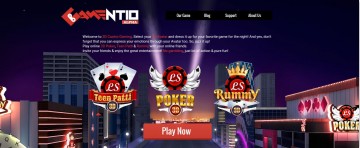 Dehradun, India, January 5, 2016 (Newswire.com) - ​​​Dehradun, India: Logic Simplified has recently launched 3D social casino (non-gambling) games - 3D Poker, Teen Patti and Rummy - on Google Play and on web (Gamentio.com). Gamentio, which offers free registration, attempts to reinvent social casino games for entertainment by introducing the 3D concept. Players across the globe will find Gamentio unique and awe-inspiring since they can now relish the real-casino fun on-line using the social-rich features in a life-like setting.
Gamentio sports a 3D interface that brings fans of on-line card games customizable avatars capable of enacting command-based gestures, like clapping, waving, showing frustration and joy, making the atmosphere alive and giving the real feel of playing card games. In addition, players on Gamentio can also create private rooms where they can invite their friends and enjoy gaming sessions with interactive features like chat, emoticons and social networking.
The internet is flooded with many online card games, but most of them are 2D and appear bleak, thus do not provide players a professional online setup they otherwise find in brick-and-mortar casinos.
The journey of Gamentio began three years ago when Sumeet, having drawn inspiration from popularity of card games in India, came up with the idea of 3D card games. He wanted to transcend the limitations of online card games and narrow down the gap between social casino and land-based casino experience.
Emboldened by the positive feedback on the idea of the 3D card games portal, Sumeet began the endeavor with a team of three to design and develop Gamentio. The team mostly had freshers to start with, but began to grow with more professionals as time passed by. "It's been a long journey that has tested us time and again, but we kept a tenacious hold on our dream project Gamentio. And finally, we are all set to unveil what online card game players may call a metamorphosis of digital casino games", says Sumeet.
An important point to note here is that Gamentio must not be mistaken for a gambling portal or App as it is solely meant for entertainment. Players instantly get free chips upon registration to begin playing, and could win bonus chips too via social features like invites, referrals etc. Winning a game on Gamentio brings more chips for a player to use them for further games on Gamentio. "The model we have chosen for our game is the Freemium model, which means players can enjoy the games by earning through in-game social features in addition to buying the extra chips using the In-App purchases," explains Sumeet.
Sumeet's idea aims at transforming the way millions of online card games players entertain themselves, and he hopes that his stint will take the entertainment of playing card games to an all new level. With the successful launch of Gamentio on web and Android platform, the whole Gamentio team is exuding confidence that players will begin falling in love with their dream product and grow in numbers with every passing day.
Contact:
Website: Gamentio.com
Facebook: https://www.facebook.com/gamentio
Twitter: https://twitter.com/gamentio2
LinkedIn: https://www.linkedin.com/in/arorasumeet
Email: sumeet.arora@logicsimplified.com
Related Media