Game-Changing Partnership Taking Place Linking Exhibits Development Group and Destiny USA
Beyond Rubik's Cube Exhibition to Open February 16 at 'The Muzium'.
Press Release
-
updated: Feb 15, 2018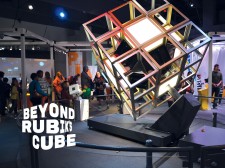 SAINT PAUL, Minn., February 15, 2018 (Newswire.com) - Exhibits Development Group (EDG) is thrilled to announce a new, long-term partnership with Destiny USA, the sixth largest shopping, dining, and entertainment destination in the United States visited by 26M guests annually.
The partnership will allow EDG to bring to life four traveling exhibitions inside Destiny USA's newest third-level entertainment attraction, "The Muzium," in Syracuse, New York. Destiny USA's millions of annual visitors, travelers and tourists will now have access to the incredible line-up of EDG's touring portfolio.
"Since our inception, EDG has sought to bring the highest quality, most impressive museum and art exhibitions to our audiences. Working with Destiny USA, we will reach an entirely new audience that may have shied away from going to museums," explained Amy Noble Seitz, Founder and CEO of EDG. "We are truly excited to embark on this partnership."
Working with Destiny USA, EDG has helped transform a 7,500-square-foot entertainment space into The Muzium, where four consecutive EDG traveling exhibitions will be featured over the next several years.  EDG has supported Destiny USA's leadership to design the world-class gallery space and select exhibitions in art, science, popular culture and history.
EDG is the world's leading traveling exhibition company, known for producing museum blockbusters including MythBusters: The Explosive Exhibition, Dressing Downton, The International Exhibition of Sherlock Holmes and the recently released Pompeii: The Immortal City, which premiered in Brussels in December of 2017. Its expansive portfolio contains exhibitions both created by EDG and those fostered from relationships with some of the most important museums and private collections throughout the world.
"The partnership between EDG and Destiny USA is truly game-changing and The Muzium complements the unique offerings to our guests from all over the world," expressed Aiden McGuire, Director of Marketing, Destiny USA. "Through these interactive and mind-blowing exhibits, adults and children alike will participate in cultural exploration and education. That is the type of entertainment and culture we want to bring to Destiny USA."
The partners recently opened The Muzium with The Magical History Tour: A Beatles Memorabilia Exhibition, which will be followed by the opening of the family-friendly, STEM-based exhibitions Beyond Rubik's Cube and MythBusters: The Explosive Exhibition, with more to be announced very soon.
For over a decade, EDG, under Ms. Seitz's leadership, has sought to expand the scope of museum quality attractions to non-traditional venues including malls, casinos, train stations, cruise ships, and riverboats. Seitz's strategic vision includes building creative partnerships and collaborations with institutions to expand audiences outside the traditional museum and gallery settings, aligning with consumers' continued thirst to welcome education into all aspects of their lives.
"The partnership between Exhibits Development Group and Destiny USA will allow everyday visitors to engage in activities far beyond the standard shopping experience," said Seitz. "We are excited to bring exhibitions to this area for years to come." 
About Exhibits Development Group (EDG):
EDG is dedicated to the development, production, marketing and distribution of traveling museum exhibitions and cultural projects. EDG also serves as a partner to other exhibition organizers, museums, foundations and collection owners in the U.S. and abroad, in the care and stewardship of their exhibitions and collections. EDG's mission is to initiate and promote international cultural and intellectual exchange by bringing high-quality traveling exhibitions of art, science, and history to broad and diverse audiences. Recently EDG moved their headquarters to the historic Union Depot in St. Paul where they intend to host some of their innovative projects.  For more information, please visit www.exhibitsdevelopment.com.
About Destiny USA
Destiny USA is New York's largest shopping, dining, outlet and entertainment destination and the sixth largest shopping center in the U.S. Centrally located in Syracuse, Destiny USA is visited by 26 million guests annually and consistently draws from a 4-hour drive and attracts tourists from all 50 states, Canada and worldwide. An unparalleled mix of shopping, dining, outlet, and entertainment—all under one roof—combined with its new, onsite Embassy Suites by Hilton hotel cement Destiny USA's reputation as a premier tourist destination. Plan your next visit to Destiny USA, Trip Advisor's #1 travel destination in Central New York, today at www.destinyusa.com.
About Pyramid Management Group, LLC
Pyramid Management Group, owner of Destiny USA, is one of the largest, most innovative, privately-held shopping center developers in North America. Headquartered in Syracuse, New York, Pyramid's portfolio of retail-based, tourist, and entertainment destinations dominates the northeast, with 16 properties located throughout New York, Massachusetts, and Virginia. For over 40 years, Pyramid has led the industry by combining the best elements of traditional retail with world-class dining and entertainment, all under one roof. For more information, visit www.pyramidmg.com.
Source: Exhibits Development Group
Share:
---
Categories: A&E News, Emerging Businesses, Sciences, Arts and Entertainment
Tags: Destiny USA, Discovery Communications, Entertainment, Exhibitions, Exhibits Development Group, Museum Traveling Exhibitions, Retail, Science Centers, Shopping Malls, STEM Exhibitions
---