G.R. Raghavender Mentored the Students of JIMS, Rohini During a One Day Seminar on 'Growth of E-Commerce and Future of Traditional Retail'
Press Release
•
Apr 12, 2016
Jagan Institute of Management Studies (JIMS), Rohini organized one day seminar on 'Growth of E-commerce and Future of Traditional Retail' under the guidance of Chief Guest, G.R. Raghavender, Joint Secretary, Ministry of Commerce.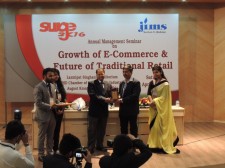 Delhi, April 12, 2016 (Newswire.com) - ​​Jagan Institute of Management Studies (JIMS) Rohini, presented its annual seminar at PHD Chamber of Commerce and Industry which was based on the topic 'Growth of E-commerce and Future of Traditional Retail'. Chief Guest, G.R. Raghavender, Joint Secretary, Ministry of Commerce and Industry was welcomed by Dr. J.K. Goyal – Director JIMS, Rohini. The objective of the seminar was to create an interface between the professionals and students with hand-on experience. It helped them to deeply understand the management related issues, develop business acumen and prepare themselves for the challenges awaiting in their careers. The seminar was attended by 150 management students apart from guests from other institutes, professors and faculty members.
G.R Raghavender while addressing the students said that e-commerce is acquiring 33 million people in the entire sector. The disruptiveness in this sector which India is going to introduce in the startup ecosystem through the policies announced on 16th Jan, 2016 by Prime Minister Narendra Modi in Vigyan Bhawan will change the entire ecosystem. Investors are showing interest and more employment is being generated. Companies like Amazon, Alibaba and Flipkart have invested in this sector to large extent and the facilities provided by the companies are making life easier bringing about a change in the shopping sector. Reading terms and conditions is a key factor which is usually ignored by the customers while purchasing a product. FDI policy is going to help both e-commerce and traditional retail as FDI 100% automatic root is permitted only to B-2-B e-Commerce and not to B 2 C industry leading to the survival of both the segments. He also mentioned that any property in order to safe guard its identity, needs to get patent which includes 3 primary tests – Novelty, Inventive steps , Market Application. Encryption devices are installed in order to prevent piracy.
Dr. J.K.Goyal highlighted the mass about the massive growth of e-retailing in India and how it has become one of the fastest blooming sectors.
Sudhanshu Malhotra - CEO of Webcom Technologies, Harshdeep Rapal - CEO of Freelance co., Naresh Gupta- Managing Director and CSO of Bang in the Middle were invited as speakers for this year's seminar. Naresh Gupta stated that a customer is no longer required to wait in the long serpentine queue at a daily need outlet to get the requisite product.
The seminar was a platform wherein intellectuals, industry stalwarts, academic experts, and research scholars participated and shared their views and opinions in the illuminating session held.
Source: Jagan Institute of Management Studies (JIMS), Rohini organized o