G.J. Gardner Homes Announces Grand Opening of Boerne, Texas, Franchise
Press Release
•
Jun 22, 2023
Maxine Saenz and Joel Guel Jr. Bring Fresh Perspective and Deep Community Connection to Custom Home Building in Boerne, Texas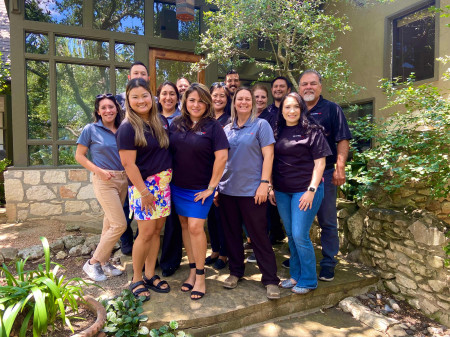 BOERNE, Texas, June 22, 2023 (Newswire.com) - G.J. Gardner Homes, a leading name in custom home building, is excited to announce the highly anticipated grand opening of its Boerne, Texas, franchise under new ownership. The dynamic duo of Maxine Saenz and Joel Guel Jr. will proudly assume ownership, bringing a fresh perspective and a deep connection to the local community.
On June 29, 2023, from 1:30 p.m. to 6 p.m., the Boerne community will gather to celebrate this momentous occasion. The grand opening festivities will include delectable food, exciting activities, and a special ribbon-cutting ceremony that signifies the start of a new era for G.J. Gardner Homes in Boerne.
Maxine Saenz and Joel Guel Jr., natives of Boerne and devoted parents, are thrilled to bring their passion for quality craftsmanship and exceptional service to their hometown. With a profound understanding of the area's unique character and the aspirations of its residents, they are dedicated to building dream homes that exceed expectations and embody the charm of Boerne.
"Boerne is not just a place we call home; it's a community we deeply care about," said Maxine Saenz, co-owner of G.J. Gardner Homes Boerne. "By opening our franchise here, we have the privilege of serving our neighbors, friends, and fellow community members. Our goal is to create homes that reflect the spirit and beauty of Boerne while providing unparalleled quality and personalized experiences."
G.J. Gardner Homes Boerne will offer a wide range of customizable home designs to suit various preferences and lifestyles. Saenz and Guel Jr. and their team are committed to turning dreams into reality, meticulously attending to every detail and ensuring exceptional craftsmanship from start to finish.
As members of the Boerne community, Saenz and Guel Jr. deeply appreciate the area's rich heritage and natural beauty. They understand the importance of creating homes that harmoniously blend with the picturesque surroundings while offering comfort, functionality, and timeless elegance.
"We are thrilled to be in Boerne, serving the community we love," said Joel Guel Jr., co-owner of G.J. Gardner Homes Boerne. "Our mission is to not only build exceptional homes but also contribute to the growth and prosperity of Boerne. We are dedicated to creating lasting relationships and making a positive impact on the lives of our clients and the community as a whole."
Join Maxine Saenz, Joel Guel Jr., and the entire G.J. Gardner Homes Boerne team as they celebrate the grand opening on June 29, 2023.
For more information about the grand opening event or to inquire about building your dream home in Boerne and the surrounding area, please visit gjgardner.com or contact G.J. Gardner Homes Boerne at boerne@gjgardner.com.
Source: G.J. Gardner Homes Boerne