FutureProof Retail Powers Scan and Go HK, Hong Kong's First Mobile Checkout Retail Store
Press Release
•
updated: Jan 30, 2018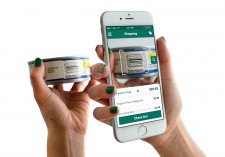 NEW YORK, January 30, 2018 (Newswire.com) - In January 2018, Scan & Go HK ("S&G") launched the first mobile shopping discount retail store in Hong Kong in partnership with FutureProof Retail ("FPR"). S&G is a concept store that combines social media marketing with FPR's mobile shopping platform for offline retailers to transform traditional bargain shopping.
Shoppers can download the "Express Checkout App" to learn about new sales and then scan and pay for items directly on their phones without the hassle of waiting in line. This technology, coupled with S&G's constantly changing inventory of discount products provides customers with a uniquely modern bargain treasure-hunting shopping experience.
The S&G launch represented the debut of FPR's mobile checkout technology in Asia and has been a great success since launch. F.S. Wong, director of Scan & Go HK, said, "Scan & Go HK excites our customers and brings them the happiness of discovering great value in our products and purchasing them with FPR's self-checkout solution. We've given Hong Kong a new retail experience!"
"We are honored to work with Scan & Go HK in launching a new generation of experience-focused retail stores in Hong Kong," said Di Di Chan, president of FutureProof Retail. "With FutureProof Retail's mobile checkout solution, Scan & Go HK offers its shoppers not only early notice when the latest styles go on sale but also the convenience and personalization of online shopping offline."
About Scan & Go HK
Scan & Go HK is a next-generation mobile retailer providing products with great value and excitement to their customers using a mobile-first user experience that modernizes the retail experience. The first store occupies 5,000 square feet in San Po Kong, Kowloon. Click here for more information.
About FutureProof Retail
Founded in 2013 by a group of impatient shoppers and award-winning developers in New York, FutureProof Retail (FPR) brings the best of online shopping offline by creating mobile shopping applications for retailers. FPR's mobile platform features line-free mobile checkout and line-free order ahead. FutureProof Retail offers unique and customizable solutions for many retail verticals: grocery, fashion, big box, convenience, micro-markets, stadiums, airports and more.
Click here for more information or to schedule a demo.
Source: FutureProof Retail