FutureProof Retail Offers NYC Store Tours to Showcase Innovative Mobile Self-Scanning Checkout Solution in Iconic New York Grocery Chain
Press Release
•
updated: Jan 13, 2019
NRF 2019 conference goers will see firsthand how an iconic New York grocery chain Is implementing mobile self-scanning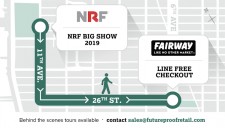 NEW YORK, January 13, 2019 (Newswire.com) - For the 2019 NRF "Big Show," FutureProof Retail (FPR) the leading developer of mobile self-scanning checkout solutions, will provide select attendees personally guided real-live demos at one of New York City's busiest and most iconic grocery retailer chains, Fairway Market - a mere few minute's walk from the Javits Center.
NRF 2019 attendees will have a prime opportunity to see and learn about line-free mobile checkout -- up close and personal in a real-world environment. NRF 2019 is being held at the Jacob K. Javits Convention Center in New York City, January 13-15.
Fairway Market is the first grocer in NYC to provide shoppers a mobile self-scanning checkout option, having rolled out the app starting in September 2018. Since then, Fairway's Mobile Checkout app has garnered extremely high ratings and positive reviews:
4.9 - App Store Rating
94% - of post-purchase experience ratings are 4-stars or more
2.4 second - AVG checkout time*
99.8% - accuracy rate**
*Checkout time is measured from the moment the shopper indicates they want to checkout until the time they receive their receipt. It includes purchases that have customer service at checkout (ie: bag checks are factored into this average)
**Accuracy rate is the percentage of items which, when randomly audited by staff, were correctly scanned by the shopper.
Please contact us directly at NRFBigShow@futureproofretail.com to arrange a personally guided tour.
Retailers can also try the FPR's solution integrated with partner technologies at NRF. Digimarc (booth #3449) is showing FutureProof Retail's app enabled with Digimarc's Mobile SDK which makes it even easier for shoppers to scan packaging and leave the store without going through checkout. Bizerba (booth #4905) is demonstrating the integration of FPR's solution with its retail scales to seamlessly add produce or bulk foods by scanning a QR code on and also to manage order queues for deli and prepared food items directly on Bizerba's counter scales.
"Offering in-store tours right around the corner from the Javits Center is the perfect showcase to highlight how mobile self-scanning checkout solutions are enabling innovative retailers like Fairway Market to bring digital convenience and speed to brick-and-mortar experiences," said William Hogben, CEO of FutureProof Retail.
FPR's solution, downloaded for free by shoppers from the iOS and Google Play platforms, allows shoppers to move around the store and to scan products using the Fairway-branded mobile Checkout app on their mobile phones; then scan a QR code and simply exit the store -- without waiting in line at the cash register. Digital scales for shoppers to weigh fruit and vegetables are available in-store.
About FutureProof Retail
Founded in 2013 by a group of impatient shoppers and award-winning developers in New York, FutureProof Retail (FPR) brings the best of online shopping offline by creating mobile shopping applications for retailers. FPR's mobile platform features line-free mobile checkout and line-free order-ahead retail. FutureProof Retail offers unique and customizable solutions for many retail verticals: grocery, fashion, big box, convenience, micro-markets, stadiums, airports and more.
About Fairway
Fairway Market is a growth-oriented food retailer offering customers a differentiated one-stop shopping experience "Like No Other Market." Fairway has established itself as a leading food retailing destination in the Greater New York City metropolitan area, with stores that emphasize an extensive selection of fresh, natural and organic products, prepared foods and hard-to-find specialty and gourmet offerings, along with a full assortment of conventional groceries. Fairway is headquartered in New York, NY. Customers can visit one of Fairway Market's 15 stores in New York, New Jersey and Connecticut or Manhattan residents can shop online at shop.fairwaymarket.com. For general information, please visit: fairwaymarket.com
Contact:
FutureProof Retail
media@futureproofretail.com
(800) 774-3360
Source: FutureProof Retail