FutureProof Retail Announces Partnership With CloudIoT Bringing Line Free Checkout to Saudi Arabia
Press Release
•
updated: Oct 31, 2017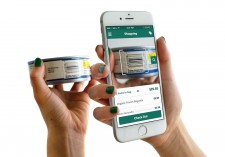 NEW YORK, October 31, 2017 (Newswire.com) - FutureProof Retail (FPR) and CloudIoT Co., in Saudi Arabia have entered into an exclusive partnership to enable retailers in Saudi Arabia to offer line-free mobile self-checkout and service counter solutions to their shoppers.
FPR's mobile platform allows shoppers to use their smartphones to scan items while they are shopping, pay on their phone and skip the lines at checkout when they leave the store. Shoppers can see the current total of their shopping basket at any time. They can also pre-order deli items at service counters and receive a notification when they are ready for pickup.
Retailers can reach shoppers via the shopper app within and outside the store with personalized specials for each individual shopper increasing basket size and shopping frequency. A corresponding merchant app allows store associates to help shoppers in the aisles and alerts them if an ID check is required e.g. for age-restricted items. FPR's solution seamlessly integrates with existing POS, payment and loyalty systems avoiding high upfront cost for hardware and integration.
"We are very excited about introducing our line free mobile checkout solution to retailers and shoppers in Saudi Arabia," says Di Di Chan, President of FutureProof Retail. "CloudIoT is driving innovation in retail with a holistic approach to IT that incorporates a range of technologies and solutions."
"CloudIoT's partnership with FutureProof Retail brings the latest innovations to SaudiArabia, that help enterprises integrate and optimize their backend and frontend IT infrastructure and beyond in line with Vision 2030 of Saudi Arabia," says its CEO, Bandar Saad Al Qahtani. CTO AbdulRahman AbdulKhudus added that "consumers in Saudi Arabia are ready for BYOD technologies in retail and other Industry sectors. There is big potential for line free checkout and self-scanning solutions in combination with other IoT & M2M technologies that allow retailers to optimize store operations."
About FutureProof Retail
FutureProof provides a cost-efficient line-free checkout system that allows shoppers to scan items with their cell phones, pay and skip the lines. No expensive sensors, cameras and data processing. No taking up valuable retail square footage. No need to change existing store systems and processes, it integrates seamlessly with existing POS, payment and loyalty systems.
Established and based in New York, NY, FPR is comprised of award-winning software engineers and business developers. FutureProof Retail was founded by a group of impatient shoppers, and brings a unique focus to ease of use in mobile self-scanning systems. The FPR-team's expertise in past endeavors has earned significant accolades in the AppStore and across a variety of industries.
Click here to contact us for a demo.
About CloudIoT
CloudIoT is owned by NESMAT ALBUSTAN Group as a Holding company. CloudIoT is a leading IT Services and Solution Provider with vast areas of expertise such as in Consulting, Digital Transformation, Embedded Technologies, IoT, Machine to Machine, Core Banking, Smart Datacenters, Automation, Security, Robotics, Mission Critical Applications, MEP, Space & Renewable Energy, Nano Technology, Cloud Services, Big Data, Wealth & Asset Management, Human Augmentation & Real-Time Analytics applied across industries where IoT and M2M play a prominent role. The Co-Founders are Mr. Bandar Al Qahtani and AbdulRahman AbdulKhudus. CloudIoT's committed statement is "Innovation is our Passion" with a focus on innovations that improve and simplify human life.
For more information visit www.cloudiiot.com.
Source: FutureProof Retail