Fusion Honored as Corporate Community Volunteer for 2022 Step Forward Awards
Press Release
•
Nov 4, 2022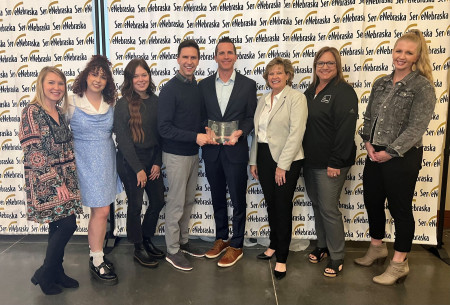 OMAHA, Neb., November 4, 2022 (Newswire.com) - ServeNebraska announced its 2022 Step Forward Award honorees last week, and Fusion Medical Staffing was recognized for the company's volunteer and philanthropy efforts. Fusion was selected as the honoree for the Corporate Community Volunteer in the small business category.
The ServeNebraska Step Forward Awards recognize exemplary volunteers across Nebraska for time and service aimed at improving communities.
"There is so much passion within the walls of Fusion to do good for our community," said Steve Koesters, President and CEO of Fusion. "The entire Fusion family is working to ensure everyone we touch has a better life, and I'm so proud to be able to accept this award on behalf of all of our employees who are consistently volunteering, donating, and making an impact."
In the last year, Fusion's philanthropy efforts have included volunteering at the Stephen's Center, cleaning up trash with Keep Omaha Beautiful, and several fundraising events for organizations like MS Forward, the Kamie K. Preston Foundation, and Project Pink'd.
"Volunteers are part of what makes Nebraska such a great place to live," said Cathleen Plager, executive director of ServeNebraska. "We're proud to partner with the Governor's office to celebrate them for all they do for our communities."
Fusion Medical Staffing has also been honored as a Fortune Best Workplaces for Millennials, Best Places to Work in Healthcare, and Best Medium Workplaces. The company is hiring across several departments. Learn more at fusionmedstaff.com.
About ServeNebraska:
ServeNebraska, the Nebraska Volunteer Service Commission, coordinates and supports community involvement by Nebraskans to address the needs of our communities. We coordinate AmeriCorps programming, ServeNebraska Week, a coordinated statewide week of volunteerism, and celebrate volunteer achievements through the annual Step Forward Awards.
About Fusion Medical Staffing:
Fusion Medical Staffing connects traveling healthcare professionals with their dream job anywhere in the country. We give our travelers the support they need to be heroes in their workplace. We exist to ensure everyone we touch has a better life. We strive to stay humble, driven, and positive.
Source: Fusion Medical Staffing