Fun Spot America Adds a New Ride to Its Orlando Location
Press Release
•
updated: Apr 27, 2018
Fun Spot America's new ride Headrush 360 will open May 1, 2018.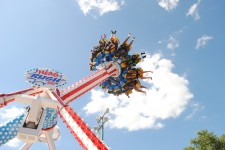 ORLANDO, Fla., April 27, 2018 (Newswire.com) - Fun Spot America, a family-owned business with a history dating back to 1969 in the industry, has announced a new ride at their Orlando, Florida location. Fun Spot America will open HeadRush 360 on May 1, 2018. HeadRush 360, which sits 12 riders and is 40 feet tall, is manufactured by SBF Visa Group. The ride is part of an overall expansion Fun Spot America has been planning for the Orlando location. The company also has parks in Kissimmee, Florida, and Atlanta, Georgia.
John Arie, Sr, founder of the company, has been providing family fun in Orlando since he opened Fun N Wheels on International Drive in 1979. Due to its popularity, Arie opened a second Fun N Wheels close by in Kissimmee, Florida, just minutes from Disney World. Both locations became a staple in the community and were very successful. Arie sold the Fun N Wheels properties in 1988 and continued to manage the parks until 1991. He went on to open Fun Spot locations in Myrtle Beach, South Carolina and then in Virginia Beach, Virginia.
In 1997, Arie moved the Fun Spot brand to the North end of International drive, close to the original Fun N Wheels location. The Orlando park officially opened on December 24, 1997. The company introduced their patented design multi-level tracks, which has become their signature. In 2004, Fun Spot America purchased the world's tallest Skycoaster, and in 2007, expanded that attraction to nine acres of tracks and family and thrill rides.
In June 2013, Fun Spot Action Park underwent a 15‐acre renovation and expansion including a name change to Fun Spot America. The Orlando and Kissimmee locations now boast Central Florida's only wooden roller coasters along with the second tallest SkyCoaster in the world. The tallest is located at their Kissimmee location.
"We are very excited about the continued expansion of our Orlando location," says John Arie Jr. "Fun Spot America is a staple in this community, and the more enjoyment and fun we can bring to both local families and visitors, the happier we are. Headrush 360 is going to be a great addition to our attractions."
To learn more about Fun Spot America Theme parks including locations, hours of operation and more, visit Fun-Spot.com.
Additional information or media inquiries contact:
David Hummer at 407-363-3867 ext 110 or Dhummer@fun-spot.com
About Fun Spot America Theme Parks
Fun Spot America Theme Parks are family owned theme parks, with three locations in Orlando, Kissimmee, and Atlanta. It boasts unique patented multi-leveled go-kart tracks, arcades, roller coasters, and family, kiddie, and thrill rides. The company uses the hashtag #HappyTogether on social media. For more information, visit Fun-Spot.com.
Source: Fun Spot America
Related Media