'Frost & Sullivan's 2018 Innovation Award' Winner Graduates From Prestigious EvoNexus Incubator
Press Release
-
updated: Jan 9, 2019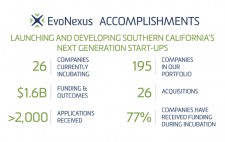 IRVINE, Calif., January 9, 2019 (Newswire.com) - For the first time in over 30 years, EvoNexus-incubated start-up Integra Devices offers a new manufacturing platform for the design and build of micro-electro-mechanical systems (MEMs), earning the 2018 North American Manufacture of 3D Micro Sensors and Devices Technology Innovation Award from Frost and Sullivan.
Frost & Sullivan recognized Integra for its manufacturing paradigm AMALGATM, which drives key advancements in the micro-sensors and micro-devices industries. It enables more effective and efficient manufacturing of a wider range of highly innovative and significant devices at the MEMS scale. This means the realization of products that were before not possible to build, such as pressure biosensors the size of an eyelash for glaucoma patients and high-performance hearing devices hidden inside the ear.
"Integra is very proud and encouraged by Frost & Sullivan's recognition as we continue to work with industry leaders in providing disruptive solutions for the industrials and life science marketplaces," Sourabh Dhillon, director of business development, states. "The confidence and support from the EvoNexus community has been instrumental in our growth and played a major part in getting us to this stage."
After two years of incubation at EvoNexus, Integra Devices has successfully graduated from their highly esteemed acceleration program. EvoNexus is Southern California's leading startup technology incubator and hub for the startup community with locations in San Diego and Irvine. EvoNexus is supported by corporate investors, including some of the largest multinational corporations in the world.
"Integra Devices is an ideal example of university-developed technology combined with experienced entrepreneurs and Southern California's leading technology incubator to launch a new company with the potential to change the basic design of future generations of products from micro-relays to advanced medical sensors," said Rory Moore, CEO and co-founder of EvoNexus. "Integra's unique process allows for integration of multiple materials into a single package that can produce functionality and measurements that are important for markets that include biomedical, optical and electronics. During their two years of incubation at the EvoNexus Irvine facility, the team developed their technology to a stage where they now have an opportunity to secure significant venture funding to scale and launch their products into a variety of markets. We are proud to call them an EvoNexus graduate company."
To learn more about Integra's unique capabilities and what Integra can do for organizations, please visit the Integra website at www.integradevices.com.
More About Integra Devices:
Integra Devices is a next-generation industrial component company that provides a new breed of micro-devices for high-value markets such as telecom, aerospace, manufacturing and medicine.
Source: Integra Devices
Share:
---
Categories: Electronics, Growth and Expansion
Tags: 5g, biomedical, evonexus, hardware, incubator, iot, manufacturing, mems, sensors, start up, technology
---