From Tragedy to Purpose - Kyra Oliver Releases Her Book, '8 Ways of Being'
Press Release
-
updated: Jan 31, 2018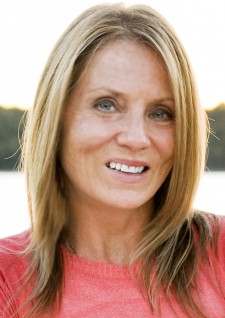 SAN DIEGO, January 31, 2018 (Newswire.com) - 16 years ago, Kyra Oliver's life was suddenly shattered, suffering the most devastating loss a mother can experience. Today, Kyra is impacting others by helping them climb out of their own darkness to lead healthy, inspired, purposeful lives.
Kyra received a phone call. Her 4 1/2-month-old son, Hayes, had stopped breathing. Despite heroic efforts, medical teams could not revive Hayes, a victim of SIDS. One minute, Kyra was having a normal work day; the next minute, her whole world came tumbling down around her.
"My whole concept of life and happiness was completely turned upside down," says Kyra. "When your world is shattered, you see everything differently; you look at people differently; you look at the sun differently. You ask questions like 'Is it even possible to be happy?'or 'Do I even care about being happy again?'"
Kyra put up a strong exterior, appearing to fight the good fight. However, inside, she struggled to regain her footing emotionally and psychologically. She realized she had three distinct choices: quit, simply exist or get on with rebuilding your life. The first two simply were not viable options for Kyra.
"Everyone goes through personal tragedies, everyone suffers loss or pain in some ways," Kyra says. "And it's natural to want to curl up into a ball or to just shut down completely. I learned that it was possible to still lead an incredibly fulfilling and healthy life after an extreme heartbreak. I just want to share my experience with people."
Kyra has just published "8 Ways of Being – How to Motivate Yourself to Live Happy and Free Every Day." It's a blend of down-to-earth practical steps and a deeply moving guide to regaining a sense of purpose. Kyra calls this a "jump-start book."
"This is a shorter, power-packed version of a larger piece coming out soon," says Kyra. "8 Ways of Being helps the reader gain some much-needed victories and helps give them the confidence they need that health, hope and happiness are indeed possible. I am crazy in love with the idea of helping others understand that happiness and freedom are attainable in this tough world. My book is for individuals from teens to adults and even families who want to live an awesome lifestyle through positive thinking."
Kyra, who lives in San Diego, California, is originally from Tennessee and grew up with an active, vibrant lifestyle. By using her "8 Ways," today she has rediscovered the joy of being physically fit and emotionally at peace. She runs marathons, ultra-endurance races, Ironman triathlons, teaches fitness classes and helps others along the way. But Kyra says "8 Ways" is not about becoming a marathon runner.
"It's about finding your happiness," says Kyra. "I utilize running and triathlon because it's something I love. And yes, there's no question that there's a direct link between physical activity and happiness. But '8 Ways' helps individuals tap into their own power sources, whatever they may be."
Oliver's endurance goes well beyond athletics. It is her story of enduring a life of intense pain, that she was compelled to help others. Kyra makes it clear that her purpose is to help others; she says, "This isn't for me, it's for you."
8 Ways of Being is a powerful nugget and life-changer, bringing a fresh perspective to everyday living. This book, small but mighty in inspiration, is a must-read for both teens and adults of any age. 8 Ways of Being is practical, doable and the way to improve one's life, so that it can truly be lived happily and freely.
#8waysofbeing
Insta: @kyraoliver
Facebook: @kyramoliver and @kyraoliver
kyra@yourownutopia.com
804-399-6606
Source: Kyra Oliver
---
Categories: Books, Sports, Fitness, and Recreation, Lifestyles
Tags: empowerment, fitness, goal setting, kindness, living positive life, love, positive mindset, positive thinking, surviving tragedy, wellness
---