'From Runaway to Runway' Benefits Victims of Human Trafficking
Press Release
•
updated: Oct 8, 2017
Miracles Outreach fifth annual fashion show and gala raises funds to give hope and a home to Florida children who have been homeless, abused and victims of human trafficking.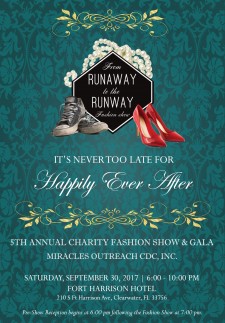 CLEARWATER, Fla., October 8, 2017 (Newswire.com) - The fifth annual "From Runaway to Runway" fashion show Sept. 30, hosted at the Fort Harrison in Clearwater, Florida, raised funds for the nonprofit Miracles Outreach to provide foster care and other services to children age 12 to 17 who are homeless, have been abused, or were victims of human trafficking. The motto of the show was "It's Never Too Late for Happily Ever After."
Keynote speaker, Assistant U.S. Attorney Ms. Stacie Harris, described the importance of the service Miracles Outreach provides the community. "Human trafficking is a devastating human rights violation that takes place not only internationally but also here in the United States," she said. "It is indeed a form of modern slavery. Traffickers use force, fraud, and coercion to enslave their victims where they can exploit them sexually or for other things."
In fact, Florida ranks third in the nation for human trafficking. There were 1,225 reports of human trafficking made to the Florida Abuse Hotline in 2015 and the number of homeless children in Florida exceeds 49,000.
From Runaway to Runway consisted of a "Class & Sass" cocktail hour and runway show featuring current and former Miracles Outreach housing program residents. Fashions were provided by local designers.
One of many events the Church of Scientology hosts to benefit the Tampa Bay community, all funds raised from the Runaway to Runway fashion show went to helping Miracles Outreach directly serve the children in their group housing facilities. "We are very happy to open up the beautiful Fort Harrison to the benefit of Tampa Bay's deserving nonprofits," says Community Affairs Director for the Church of Scientology in Clearwater Dylan Pires.
Source: ScientologyNews.org
Related Media