From Floods to Fires: Ameritech Financial Discusses What Climate Change Could Mean for Student Loan Borrowers' Finances
Press Release
•
updated: Nov 28, 2018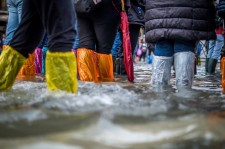 ROHNERT PARK, Calif., November 28, 2018 (Newswire.com) - From the recent California wildfires to detrimental hurricanes like Sandy and Katrina, it has become more apparent that we may need to better prepare ourselves for these natural disasters. Scientists believe that climate change and global warming could be behind some of the disasters we are facing today. When thinking about being more prepared for emergencies, one has to think about what this means for their bottom line or, more specifically, their student loans. Ameritech Financial, a document preparation company, will continue to help borrowers overwhelmed with student loan debt apply for and maintain enrollment in federal programs, such as income-driven repayment plans (IDRs) that can possibly lower monthly payments based on income and family size.
"No matter what happens with climate change, our goals at Ameritech remain clear," said Tom Knickerbocker, executive vice president of Ameritech. "We help borrowers who are unable to keep up with their student loan debt. We guide our clients through the sometimes overly complex processes and act as their trusted advocate as they deal with their loan servicers."
No matter what happens with climate change, our goals at Ameritech remain clear.

Tom Knickerbocker, Executive Vice President of Ameritech Financial
When feeling the heat on one's budget, what is the first thing that comes to mind? For many, it's housing. This is especially important for those who live on the coast or in areas that may soon become flood regions. Getting a home in these areas may be more difficult because of changes in mortgages, property value and insurance. Banks want to make sure that a property continues to hold its value. If the borrower defaults, the bank wants to know if it can get its money back from the property and if the homeowners can continue paying off their loan. Giving loans for properties in flood-prone areas will get riskier as time goes on. Interest rates will soon begin to reflect this. What if someone lives in an area with potential for fire damage, like in California? Insurance for this natural disaster will continue to rise and be more and more difficult to get. Escalating costs for wind damage, water damage and fire damage will end up getting passed onto the consumers in higher premiums.
If insurance is rising and property value is in flux, what does that spell for everything else that goes into a home, like food and energy costs? Prices for food that is developed in areas that face natural disaster damage have already begun to increase. For example, higher temperatures can cause dehydration which prevents pollination and can lead to slowed photosynthesis. Science Magazine has also released studies about how increases in temperature will likely increase our energy demand, as well as change our ability to produce electricity and deliver it reliably. For student loan borrowers that may already struggle with their finances, increases in food and electricity could spell disaster. Income-driven repayment plans (IDRs) may be able to help. IDRs allow for student loan borrowers to possibly reduce monthly payments, which could help those battling rising costs.
"It's always difficult to predict when this will all happen," said Knickerbocker. "But we will continue helping our clients, working with them for years to come and assisting them in applying for certain repayment programs." As a culture living with climate change, people may have to start budgeting for it. They have to think about potential changes in housing, increases in food and energy costs, and even increases in medical costs. Saving for these natural disasters will be increasingly necessary, especially for those living in the most affected areas.
About Ameritech Financial
Ameritech Financial is a private company located in Rohnert Park, California. Ameritech Financial has already helped thousands of consumers with financial analysis and student loan document preparation to apply for federal student loan repayment programs offered through the Department of Education.
Each Ameritech Financial telephone representative has received the Certified Student Loan Professional certification through the International Association of Professional Debt Arbitrators (IAPDA).
Ameritech Financial prides itself on its exceptional customer service.
Contact
To learn more about Ameritech Financial, please contact:
Ameritech Financial
5789 State Farm Drive #265
Rohnert Park, CA 94928
1-800-792-8621
media@ameritechfinancial.com
Source: Ameritech Financial
Related Media
Tags
Additional Links