Frog Encourages Riders to Get Outside, Expands New E-Mobility Consumer Products to Include Scooter, E-Bike and Water E-Mobility
Press Release
•
updated: Jul 9, 2020
Will Sell New Solutions Direct to Consumer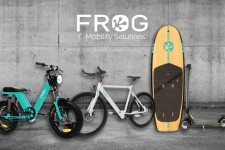 AUSTIN, Texas, July 9, 2020 (Newswire.com) - ​​​​Frog, the Austin, Texas-based global micro-mobility solutions company, is pleased to expand its offering of e-mobility solutions directly to consumers alongside its shared mobility options.
Frog currently offers its rental scooter in markets in South America and Europe, and is now expanding its product offerings direct to consumers. These new e-mobility solutions include their next-gen scooter the Frog Traveler, the Frog Safari e-bike, the Frog Gateway e-moped and the Frog e-Foil, an aquatic electric vehicle.
The Frog Traveler features a revolutionary new electric motor built directly into the wheel. This allows for superior balance and climbing capabilities. The Traveler is available now for purchase with delivery in the Fall.
The Frog Safari e-bike comes in two models, the cruise and the sport model inspired by classic fixed gear designs. Both feature pedal-assist electric motors and come in several colors. The Safari is available to purchase now with delivery in September.
The Gateway electric moped offers large-volume tires, 70 mile range on a single charge and a superior ride experience. The Gateway will be available in September.
Frog will also be offering a first-of-its-kind e-foil. The Frog e-Foil will provide water sports enthusiasts with an emissions free way to enjoy the outdoors. The e-Foil is available in October.
"We really think providing consumers with the ability to purchase our e-mobility solutions will greatly expand Frog's mission to Leap Forward to a more sustainable future," says Frog CEO, Christian Okonsky. "Consumers really want to get outside and move around safely. We're providing them with the means to enjoy the outside with our e-mobility solutions," says Okonsky.
For every Frog E-Mobility product sold, Frog will plant one tree through One Tree Planted and pull one pound of plastic out of the ocean. One mature tree acts as a vacuum for carbon emissions, pulling 48 lbs of carbon dioxide out of the atmosphere per year. "We really hope we can encourage consumers to embrace sustainable forms of transportation. Not only does it discourage the use of fossil fuels, but through our partnership with One Tree Planted, we can really help make an impact in reducing carbon emissions," says Okonksy. ​
About FrogTM: As climate change, rapid urbanization, and population growth continue to challenge our world's cities, Frog is on a mission to help communities Leap Forward toward a sustainable future by creating a higher standard for electric micro-mobility solutions. Formed in Austin, Texas by a team with vast experience in mobility solutions, the company is committed to providing communities around the world with high quality, reliable, turnkey, modes of transportation. Custom designed and manufactured specifically to meet today's high demand use, Frogs offer a more durable, stable and reliable ride to help people commute, run errands, visit friends, and explore cities in a fun, more efficient, and environmentally-friendly way. Learn more at frogemobility.com.
Source: Frog E-Mobility