Friends Create Game Celebrating the Good Things of Life Amidst 2020
Press Release
•
updated: Oct 1, 2020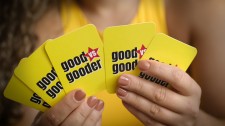 CINCINNATI, October 1, 2020 (Newswire.com) - While stuck at home during the Covid-19 pandemic, three friends started getting together for happy hour on Zoom. "We just needed to laugh and feel normal again amidst all the craziness of 2020," says co-founder Brad Wise.
In their first conversation, one of them tossed out the idea of debating random good thing. "We had a lively debate over Ketchup vs. Butterflies that really made us laugh. So we kept thinking of more matchups," says co-founder Steve Fuller.
They started debating more good things like A Free Lawnmower, Afternoon Naps, Seeing a Bunch of Hot Air Balloons, and Tater Tots. "We're old friends but we got to know each other even better because of all the stories we shared," says co-founder Jason Boys.
They invited their friend, Mark Haas, to do spontaneous illustrations during the debates and that's when they realized they created a card game. The four friends named it Good vs Gooder, started an LLC, and spent the summer turning their idea into a real game. They made a free version available through their website and hundreds of people downloaded it in the first month.
"I think people are just tired of the division. I've experienced firsthand the game brings people together who don't agree politically and reminds us there are good things we can bond over. Like Warm Donuts and Dogs Reunited with their Soldier Owners," Wise says.
The free sample is still available on the Good vs Gooder website as well as a link to purchase the full version.
CONTACT:
Brad Wise
www.goodvsgooder.com
​video: https://www.youtube.com/watch?v=ObE3VA1JnEY
brad@bespokenlive.org
Interviews available by request.
Source: Good vs Gooder
Tags
Additional Links