Freedom Reveals the Lies Behind America's Heroin Epidemic
The cover story of this month's Freedom Magazine asks (and answers) the question, "Who profits from the narcotics epidemic?"
Press Release
-
May 15, 2016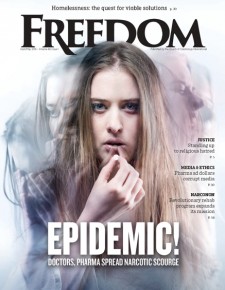 Los Angeles, California, May 15, 2016 (Newswire.com) - With the Centers for Disease Control and Prevention (CDC) calling the nation's current heroin crisis the worst drug overdose epidemic in history, Freedom Magazine investigates the source of the catastrophe and traces it to three psychiatrists, a pharmaceutical company and the FDA.
According to Freedom Magazine, in a report to the Senate Caucus on International Narcotics Control in 2014, the National Institute of Drug Abuse stated, "The number of prescriptions for opioids (like hydrocodone and oxycodone products) have escalated from around 76 million in 1991 to nearly 207 million in 2013."
The investigation exposes the 20-year "educational" campaign behind this disaster and the individuals responsible for feeding false and misleading information to the medical community and to users through direct-to-consumer advertising.
Freedom looks into the fraudulent marketing tactics that resulted in Purdue Pharma LP, the manufacturer of OxyContin, and its executives pleading guilty in federal court to charges of "felony misbranding of a drug, with the intent to defraud and mislead," and paying $634.5 million in fines. And it reveals the names of the three psychiatrists who personally led and profited from this campaign: the Sackler brothers, Arthur, Mortimer and Raymond.  The family continues to profit from their pharma empire.
But consumers may still be operating on false advertising claims, making them liable to suffer the fatal consequences.
The article, "Pill Pushers," is available online at www.freedommag.org
Since 1968, the Church of Scientology has published Freedom Magazine in 20 nations. Dedicated to advancing awareness and achievement of human rights, the magazine has been the catalyst for groundbreaking reforms in the public interest and is broadly hailed as a leading voice for human rights and civil liberties in the world today.
Source: Freedommag.org
Share:
---
Categories: Pharmaceuticals and Biotech, Investigative News, Substance Abuse
Tags: America, epidemic, Freedom, heroin, Scientology
---