Freedom Magazine Wins Five Religion Communicators Council Awards
Press Release
•
Apr 13, 2016
The voice of Scientology since 1968, Freedom Magazine has earned five honors in the 2016 DeRose-Hinkhouse Awards.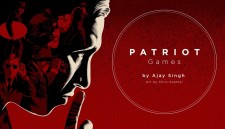 Los Angeles, CA, April 13, 2016 (Newswire.com) - Freedom Magazine earned the National Magazine Award of Excellence in the 2016 DeRose-Hinkhouse Awards, presented at the annual RCC (Religion Communicators Council) convention March 31 at the Interchurch Center on Riverside Drive in New York.
In addition to earning this recognition for the magazine as a whole, Freedom earned four other honors:
The Award of Excellence in the category "Writing for Publication" for "Patriot Games," an article by Ajay

Singh

in the magazine's May 2015 edition that looked into the Patriot Act. Published a month before the June 2015 deadline for Congress to renew the 2001 act, the article provided an in-depth analysis of its most controversial clauses including the provision giving the National Security Agency the power to indiscriminately collect phone data on American citizens. (In June 2015, Congress struck

NSA's

mass phone collection program, requiring the agency to gain permission from federal court to obtain phone records on individuals.)
Also in the "Writing for Publication" category, the May 2015 issue earned a Certificate of Merit for "Child Development Group of Mississippi," a photographic essay by photographer Bob Fletcher of an early Head Start program in 1965. The feature provides a window into life in a desolate part of the state known as the Delta, documenting its poverty and the resilience of its people.
In the category "Graphic Design, Art & Photography, the magazine also won two awards: a Certificate of Merit in "Design, Publication Cover" for Davide

Bonazzi's

June 2015 illustration for the issue Religion, Why You Should Care and an Award of Excellence for the opening spread on Patriot Games illustrated by Chris

Koehler

.
Founded in 1929, the RCC is an association of communications professionals who work for and with a diverse group of faith-based organizations in the areas of communications, public relations, marketing and development. The DeRose-Hinkhouse Memorial Awards are given annually to RCC members who demonstrate excellence in religious communications and public relations.
Source: Freedom Magazine
Related Media