Freedom From Drug Abuse is the Message of the Drug-Free Soccer Tournament
Press Release
•
updated: Jul 15, 2019
The sixth annual Drug-Free Tournament of Cagliari, Italy, promotes that when someone kicks drugs, everyone wins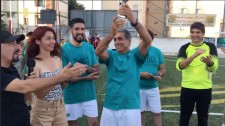 CAGLIARI, Italy, July 15, 2019 (Newswire.com) - In Cagliari, the capital of the Italian island of Sardinia, four teams met on International Day Against Drug Abuse to promote drug-free living in a tournament promoting the drug prevention initiative of Foundation for a Drug-Free World.
Now in its sixth year, the tournament was organized by Foundation for a Drug-Free World Sardinia and was televised on Sardinia 1 TV.
The foundation promotes sports as a healthy alternative to drug abuse, saying "when someone kicks drugs, everyone wins."
The event was made possible by the support of the Sardinian chapter of MSP Italia, a nonprofit association for the promotion of sports, and by the hospitality of Polisportiva Johannes, which made the playing field available.
The Foundation for a Drug-Free World team won the final match, beating a team of local TV journalists. Their victory this year was in no small measure thanks to the participation of former pro football (soccer) player Gianni Roccotelli.
Foundation for a Drug-Free World is a secular nonprofit corporation that empowers youth and adults with factual information about drugs so they can make informed decisions to live drug-free. The Foundation's Truth About Drugs campaign is the world's largest nongovernmental drug education and prevention initiative.
To learn how humanitarians the world over have used this campaign to better their communities, watch ​Voices for Humanity on the Scientology Network.
Source: Foundation for a Drug-Free World
Related Media