Free Range Hops! for Dogs - It's Not Beer, Its Wild Hare Ears
Limited Edition Wild Hare Ears for Dogs that Need More than Machine-Produced Biscuits
Press Release
-
updated: Sep 1, 2017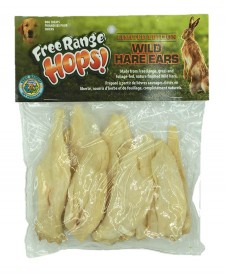 SHELBY TOWNSHIP, Mich., September 1, 2017 (Newswire.com) - Some say dogs descended from wolves and if that's true, then you can take your dog out of the wild but you can't take the wild out of your dog. Dogs are historically carnivores and let's face it; factory-produced biscuits aren't satisfying your dog's most basic and primal needs. So, Free Raised Pet Products is proud to offer its limited-edition Wild Hare Ears. Wild Hare Ears are hypoallergenic, odor-free, gluten-free, preservative-free, and most importantly, chemical-free. That's right, a non-GMO, all-natural, single-ingredient, low-fat, high-protein treat that just might make your dog "howl" like its ancestors.
"We're seeing a trend in the pet industry where a record number of dogs are being diagnosed with allergy and digestive issues as a result of highly-processed foods and treats that might be good for humans but not for dogs. Dogs can chew on rocks, sticks, and things that would make our stomachs turn but the reality is that some "healthy" treats are making our dogs sick," according to Dr. Ralph Claypool II, Chief Operations Officer at Free Raised Pet Products. "Dogs are carnivores and carnivores need meat. The minimum Crude Protein for the Wild Hare Ears is 91.3 percent and it's printed on every package. Our Limited Edition Wild Hare Ears come from the primitive Patagonia region of Argentina from the Andes Mountains to the grasslands of the Archipelago. Here, nature rules and instinct is everything."
Free Range Hops! Wild Hare Ears are the ideal treat for dogs with sensitive stomachs, processed-food allergies, dogs on reduced fat diets, and even dogs that have lost that "energy" that sets them apart as canines. Wild Hare Ears are For Dogs of All Sizes and are given as a reward, training treat, or a "just between meals" snack. As always, supervise your dog when giving chews and provide plenty of fresh, clean water. This is not for human consumption.
Free Range Hops! Wild Hare Ears are completely "hairless" using our patented, chemical-free process. Not all Ears are created equal so only trust the ones that say Free Range Hops! TM
www.FreeRaisedPetProducts.com
Free Range Hops! ® Free Raised Pet Products, Inc. All rights reserved. 
For Press, Media, or Specific Product Questions:
Dr. Ralph W. Claypool II, BBA, JD
Chief Operations Officer
Email: RWCII@FreeRaisedPetProducts.com
For Sales:
Gregory J. Claypool
National Sales Manager
Office: (586) 737-0797
Fax: (586) 737-0796
Email: Greg@FreeRaisedPetProducts.com
Source: Free Raised Pet Products
Share:
---
Categories: Small Business, Commodities, Food and Beverage Services, Pets, Production and Manufacturing, Wildlife
Tags: bunny, cottontail, Free Raised Pet Products, Free Range Hops!, hare, jackrabbit, Lagomorpha, Leporidae, Lepus, Limited Edition Dog Treats, rabbit, Wild Hare Ears
---