Free Cataract Surgery to the Poor, Underserved, and Uninsured Residents in the Islands of Hawaii
Press Release
•
updated: May 10, 2018
2nd Annual Cataract Days 2018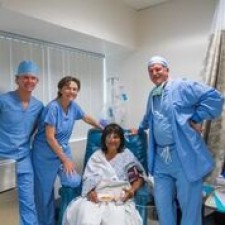 HONOLULU, May 10, 2018 (Newswire.com) - The Hawaiian Eye Foundation (HEF) performs FREE sight-restoring cataract surgeries for those that are uninsured and underinsured in Hawai'i. With the incredible support of the Atherton Family Foundation, the 2nd Annual Cataract Days was held on May 8 and 9, in Honolulu.
Patient referrals were made by Project Vision Hawaii, Community Health Centers, and local outreach institutions. Target populations include homeless individuals in underserved communities and low-income kupuna. Patients were evaluated in mid-April by volunteer doctors and staff at Jenkins Eye Care to determine which patients needed the cataract operation. Those that were cleared for surgery were provided with free surgeries on May 8, 2018, at the Surgical Suites, LLC. Today, May 9, 2018, all patients attended their post-operative appointments and we are pleased to report that all are seeing excellently! When their patches were removed, many exclaimed how thrilled they are to see their grandchildren for the first time and to be able to re-enter the workforce now that they can see.
It's like a day at the Eye Spa!

John Urist, Cataract Patient
Our team of highly trained surgeons includes Dr. Tyrie Jenkins and Dr. Jeffrey Peterson of Jenkins Eye Care. Drs. Jenkins and Peterson, along with their amazing staff led by Pam Utu, all donated their time and efforts for pre- and post-exams and surgeries.
Special thanks to Dr. Duncan McDonald for donating his time as the anesthesiologist, and to the partners of the Surgical Suites, LLC – Dr. Ming Chen, Dr. Alan Faulkner, Dr. Tyrie Jenkins, Dr. Carlos Omphroy, and Dr. Jon M. Portis for allowing us to utilize their facility. Mahalo nui loa to all parties for their kindness and eagerness to serve.
We are grateful to be able to provide this service once again to our island neighbors and friends with the help of our partners at Atherton Family Foundation, the physicians and staff at Jenkins Eye Care and the Surgical Suites, LLC., Project Vision Hawaii, Alcon, ASCRS Foundation, OneSight, Ocular Science and The Cab.
Due to the generous long-term grant of the Atherton Family Foundation, the Hawaiian Eye Foundation will be expanding these services to the neighbor islands to better serve the people of Hawaii. If you, or someone you love, need cataract surgery, but do not have insurance or cannot afford the surgery due to hardship, please contact Darrah Kauhane at the Hawaiian Eye Foundation at (808) 536-3961, contact@hawaiianeyefoundation.org, or visit our website at www.HawaiianEyeFoundation.org for more information on how you can qualify and be added to the next list of patients to obtain free eye care services.
The Hawaiian Eye Foundation's mission is to provide quality eye care to all people. We have been serving the underserved internationally for over thirty years. We are pleased to now help cure cataract blindness here in our local community as well.
CONTACT: Darrah Kauhane, MS, CPO, Executive Director
Hawaiian Eye Foundation
95-717 Kipapa Drive #23
Mililani, HI 96789
Telephone: (808) 536-3961
Email: darrah@hawaiianeyefoundation.org
Mililani, HI 96789
Source: Hawaiian Eye Foundation
Related Media