Fraudit Announces Industry-First Free Ad Fraud Service
By finding more invalid traffic than any other product on the market, Fraudit helps companies get compensated for thousands of dollars lost to ad fraud, with no upfront costs, and no monthly fees to use their service.
Press Release
-
updated: Aug 6, 2019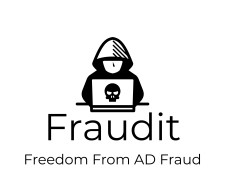 ATLANTA, August 6, 2019 (Newswire.com) - Fraudit has announced the industry's first free ad fraud service. Designed from the ground up to help companies gain massive refunds for fraudulent traffic, and with no upfront or monthly costs, Fraudit is the only service on the market to allow companies to evaluate their traffic without lengthy or expensive contracts. 
"It was time someone flipped the fraud industry on its head," said Daniel Hellerman, chief executive officer, Fraudit. "Until today, marketers have been paying high CPM fees or large set monthly costs for ad fraud monitoring. The problem there is that by charging an upfront fee, and not basing their pricing off of traffic avoided or blocked, typical marketplace solutions weren't incentivized to ever cut down ad fraud. Instead, they were incentivized to have their customers run the most impressions in order to maximize their CPM fee or monthly contract value. At Fraudit, we do a post-bid analysis and automate the refund process on behalf of our customers to ensure they are getting back every dollar. We only get paid when our customers get paid, guaranteeing a large ROI. In some cases we've seen customers whose tools regularly report under 3% ad fraud are actually closer to 20-30%, that's a significant saving." 
As a pioneer in the ad fraud services space, Fraudit is easy to include in any tech stack. Instead of appending code to each ad trafficked, or wrapping each ad in code, Fraudit evaluates log files provided by their customers DSPs. If a customer is currently using an ad fraud tool, Fraudit can even ingest their logs to help the customer increase their total fraud refund.
"We fully believe the only way to truly eliminate ad fraud is to hit them in the pocketbook," said Hellerman. "Fraud is a cybersecurity issue that is not being taken seriously enough at the platform level. Large DSPs are making a huge percentage of their revenue on fraudulent traffic, and they aren't incentivized enough to stop it. The only way to truly experience freedom from ad fraud is to stop paying for it, which is what makes a solution like Fraudit so effective. What we've seen to date is that most customers before using our platform had no idea how to approach their DSP about fraud refunds. They either didn't have enough data, the process was too complex, or they were using one of the traditional ad fraud tools that are all too easily fooled into thinking fraudulent traffic is legitimate. We take all that away and keep detailed impression-level logs of every bit of ad fraud we find, to ensure our customers get the largest refund, with the least bit of hassle."
About Fraudit
Fraudit is an ad fraud service that analyzes post-bid impression metrics to provide the largest possible refund to advertisers for invalid traffic, helping customers regain thousands of dollars each month. Fraudit automates the refund and fraud analysis process, allowing companies to focus on marketing, while Fraudit focuses on recovering the invalid ad spend. For more information, follow us at @Fraudit_Tech, or visit our site at https://Fraudit.tech/. 
Source: Fraudit
Share:
---
Categories: Advertising
Tags: Ad Fraud, Advertising Fraud, Click Fraud, display ad, Display Fraud, dsp, Fraud, programmatic
---
Related Files
Additional Links