Four Pearl Network Contractors Are Honored as 2023 ENERGY STAR Award Recipients
Press Release
•
Jul 18, 2023
Environmental Protection Agency recognizes businesses and organizations that protect the environment through energy efficiency achievements.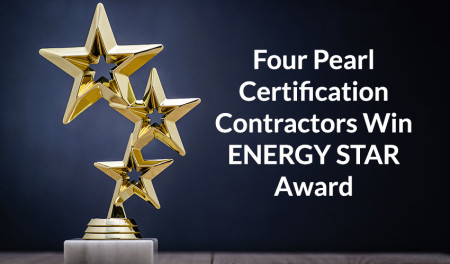 CHARLOTTESVILLE, Va., July 18, 2023 (Newswire.com) - Pearl Certification, the gold standard in high-performing home certifications, is pleased to announce that four of its network contractors have been honored with the 2023 ENERGY STAR® Contractor of the Year Award.
Each year, the U.S. Environmental Protection Agency recognizes businesses and organizations that have made "outstanding contributions to protecting the environment through superior energy efficiency achievements."
This year, four contractor partners in the Pearl Network were named to the prestigious list. They are: Ciel Power LLC, Kearny, N.J.; Green Team LI, Holbrook, N.Y.; Home Energy Medics, LLC, Arlington, Va.; and Ideal Air Conditioning and Insulation, Phoenix, Ariz.
"We are proud to partner with companies that are serious about serving their clients while using their knowledge and tools to preserve the environment with the goal of reducing waste and carbon emissions," said Derek Estes, Vice President of Pearl's Contractor Division. "We only partner with the best of the best, and the EPA's ENERGY STAR Award signals that our network contractors are not only focused on delivering exceptional work but are also employing cutting-edge technology and practices to protect the environment."
Pearl carefully vets contractors and only accepts those businesses that meet its rigorous standards. Being a member of the Pearl Network enables contractors to offer the nationally-recognized Pearl Certification on qualifying installs to build trust with customers, win more business, and differentiate themselves from the pack.
About the Awards
ENERGY STAR Award Winners lead their industries in the production and sale of energy-efficient products and services and in the development and adoption of strategies that provide substantial savings in our homes, buildings, and plants. All these efforts contribute to reduced emissions and create a healthy environment. Winners are selected from a network of thousands of ENERGY STAR partners.
About Pearl Certification: Pearl Certification is the gold standard in high-performing home certifications, bringing visibility to the valuable features that make them healthy, safe, comfortable, and energy- and water-efficient. Pearl Certified homes sell on average for 5.5% more than comparable homes, according to independent appraiser studies. Pearl is the only national sponsor of the U.S. Department of Energy's Home Performance with ENERGY STAR program and is a partner with the National Association of REALTORS® Green Resource Council.
###
Source: Pearl Certification