Founders of Nanato Media Win Medal for Best Business Book in International Latino Book Awards 2022
Press Release
•
Aug 25, 2022
Recognized for its groundbreaking ideas on how to effectively engage with Hispanic audiences in the U.S., 'Beyond Se Habla Español: How Lawyers Win the Hispanic Market' was awarded a silver medal for Best Business Book in the 2022 International Latino Book Awards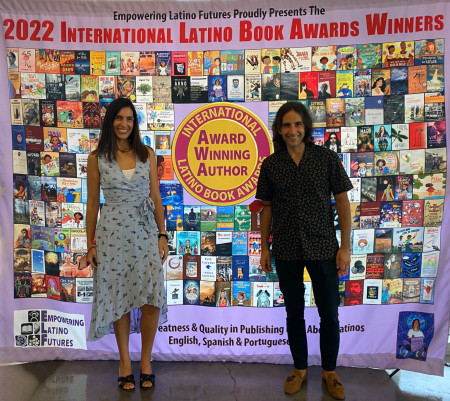 AUSTIN, Texas, August 25, 2022 (Newswire.com) - "Beyond Se Habla Español: How Lawyers Win the Hispanic Market" stems from the creativity and expertise of authors Natalie Fragkouli and Liel Levy, founders of the marketing agency Nanato Media based in Austin, Texas. The book addresses misconceptions about the ever-growing U.S. Hispanic market and empowers law firms to build digital marketing strategies that take cultural nuances into account.
The ceremony took place at Los Angeles City College on Aug. 19 and 20. As the largest award in the United States celebrating greatness in Latino literature, the ILBA honored 249 winners in 108 categories, including Fragkouli and Levy's intellectual creation.
Fragkouli and Levy attended the ceremony in Los Angeles to receive the award. "We wrote this book to inspire consumer-focused attorneys to better engage their local Hispanic communities," said Fragkouli during their acceptance speech.
In the book, Fragkouli and Levy discuss the value of a dedicated Hispanic audience and explain why law firms should consider a digital-forward strategy to connect with potential clients and remain relevant for years to come.
Topics covered in the book include:
● The five distinct communities within the Hispanic market and what makes each unique
● How to understand and properly use terms such as Hispanic, Latino/Latina, and Latinx
● Why trust and empathy are important to Latinx clients
● Why a digital-forward strategy is the most cost-effective approach to engaging with the Hispanic market thanks to widespread technology adoption
● How to run a successful PPC campaign that generates qualified leads with a high conversion rate
Fragkouli and Levy also announced their upcoming literary project during the ceremony. "The next title we are working on is to promote entrepreneurship among Spanish-speaking immigrants in the U.S.," Levy said.
The ILBA is an initiative by Empowering Latino Futures (ELF) that celebrates Latino authors, translators, and illustrators for their books written either in English, Spanish and Portuguese. You can find the full list of this year's winners here.
About the authors and Nanato Media
Natalie Fragkouli is an MBA with more than 10 years of experience serving firms that need help marketing to the Hispanic American demographic. Liel Levy grew up working in a family-owned business that became one of the country's largest Hispanic legal brands. Together, Fragkouli and Levy co-founded Nanato Media with the goal of helping law firms run relevant, expert campaigns targeting local Hispanic markets. By leveraging the power of Nanato Media, law firms have access to their own team of multicultural marketers to execute cost-effective and successful efforts.
Source: Nanato Media