Former T-Venture CEO Ranked as One of the Most Important People in the Venture Capital Industry in Germany
Christoph Lymbersky was ranked as one of the highest trending scorers on The German Private Company Leaderboard by Crunchbase, which is one of the most trusted and comprehensive sources for venture capital data.
Press Release
-
updated: Jan 15, 2019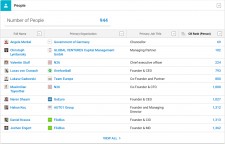 HAMBURG, Germany, January 15, 2019 (Newswire.com) - Crunchbase recently published a list of Germany's 1000 most important people in the venture capital industry. Crunchbase ranked Dr. Christoph Lymbersky, Managing Partner at GLOBAL VENTURES Capital Management in position two, only preceded by Angela Merkel and followed by Valentin Stalf, founder and CEO of N26. Also in the top ten are Lukasz Gadowski, founder of Team Europe, Kakan Koc, founder of AUTO1 Group and Daniel Krauss and Jochen Engert, the founders of FlixBus.
Before becoming an investor, Christoph Lymbersky founded and co-founded an Internet Service Provider that developed an early version of a Dropbox-like, instant backup system, an IT Consulting company and is one of the founders of GLOBAL VENTURES, a strategic investment banking boutique. Before founding GLOBAL VENTURES, he was a Vice President of Deutsche Telekom Capital Partners (DTCP). Christoph was one of the first employees at DTCP, which is now one of the Top 20 corporate venture capital firms, according to the 2018 CB Insights ranking.
Christoph has also been a Managing Director of the former T-Venture, one of Europe's oldest and biggest venture capital funds. 
It was recently announced that Christoph Lymbersky is also one of the founding members of EMPORIUM. This is a company still in stealth mode, developing a trading platform for venture capital investments which allows private investors to invest small amounts in venture capital-backed companies, based on blockchain technology. The company is currently in discussions with investors and in the process of hiring key talent from top tier investment firms and venture funds. EMPORIUM itself entered the German Crunchbase Leaderboard at position nine this month, with a Crunchbase ranking of 9.7 out of 10.
Source: EMPORIUM
Share:
---
Categories: Venture Funding
Tags: blockchain, emporium, funding, Lymbersky, market place, T-Venture, venture capital, venture funding
---