Former President of Arby's Supply Chain Cooperative, David Cox, Joins KCooper Brands, Inc. Board of Directors
Press Release
•
Oct 3, 2023
David Cox has led as Former President of Arby's Supply Chain Cooperative and Former Vice President of Supply Chain at Darden Restaurants.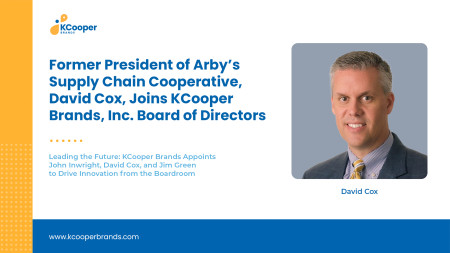 DENVER, October 3, 2023 (Newswire.com) - KCooper Brands, Inc. is thrilled to welcome David Cox to its Board of Directors, fortifying its vision to stand as a leader in innovative supply chain solutions. David's appointment stands as a strategic move to reinforce the company's Performance Through Technology™ Platform, drawing from David's wealth of expertise from a distinguished career spanning decades.
Known for his transformative leadership at Arby's Supply Chain Cooperative, ARCOP, Inc., where he served as President, David was instrumental in transforming ARCOP into a best-in-class supply chain development and management organization. Under his stewardship, ARCOP effectively managed an annual spend of over $1.4 billion, a testament to his ability to drive efficiency and growth at scale.
Prior to his time at ARCOP, David's executive journey involved pivotal roles at iconic brands, including his role as Vice President of Supply Chain at Darden Restaurants. David's insight extends to nurturing talent, forging lasting relationships, and fostering cultures of excellence—attributes that have cemented his reputation as a respected and effective leader.
"David's profound expertise in supply chain management and his track record of success, particularly with ARCOP, brings a strategic depth to our board. His insights and relationships will be pivotal as we further innovate, navigate our growth trajectory, and strengthen our position in the industry," remarked George Dempsey, CEO of KCooper Brands, Inc.
In addition to his corporate achievements, David has showcased unwavering dedication to the community, marked by almost 20 years of service on the Arby's Foundation Board. He also holds significant roles within industry think tanks, including the National Restaurant Association's Supply Chain Management Expert Exchange.
In welcoming David Cox, KCooper Brands underscores its vision for the future—a journey marked by true industry leadership, relentless innovation, and sustainable growth.
About KCooper Brands, Inc.
Founded in 2016 by George and Kathi Dempsey, KCooper Brands, Inc. stands at the forefront of providing innovative solutions in the rigid packaging, nonwoven substrate, e-commerce, and marketing sectors. With a customer-centric approach, the company offers a broad range of opportunities through its four business units—Dempsey International Packaging, KCooper Substrate, Raptor Packaging, and KC Media—all unified under its unique Performance Through Technology™ Platform. Visit www.kcooperbrands.com to learn more.
Source: KCooper Brands, Inc.