Former NFL Alums and Brothers Launch 'Politiscope' App to Help Educate Voters and Combat Claims of 'Fake News'
Press Release
•
updated: Sep 12, 2018
The "Politiscope" App Sets the Stage for Honest Politics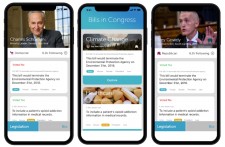 HOUSTON, September 12, 2018 (Newswire.com) - Former NFL player Walter Powell Jr. (Arizona Cardinals, New York Jets, Buffalo Bills) has turned down several NFL offers to launch Politiscope, a political tech mobile application. Powell Jr. has partnered with his brother, an NFL alum himself, Brandon Williams (San Francisco 49ers, St. Louis Rams) to launch the Politiscope app this winter. This winter, this new information tool will be available for download in the app store that engages everyday citizens in the political process. "Politiscope" provides player profiles for politicians with their voting records, user-friendly bill summaries and the non-partisan political information that people need to make educated voting decisions. In the Politiscope App, there is also a feature where the user can register to vote in the application.
"At this time in our nation's history, having accurate information on the voting records of our leaders easily accessible and non-partisan information about the bills being pushed through Congress is more important than ever before. A claim of 'Fake News' from the current national leaders in response to unflattering news threatens this nation's democracy and the concept that this great nation was built upon," said Walter Powell.
Before you go vote, download Politiscope.

Walter Powell, Founder
The only way to combat this threat is to have accessible tools like the Politiscope app at the fingertips of every American to prove that the truth is the truth. Politiscope helps voters stay informed and holds their respective representatives accountable for their voting records. Designers of the app are looking forward to it serving its purpose of engaging citizens by improving the flow and accuracy of information. This nation's Democracy depends on having an engaged and informed electorate.
"Before you go vote, download Politiscope," said Powell.
For more information on Politiscope contact Brand Excellence at deidre.rasheed@gmail.com or 713-972-2462.
The "Politiscope" App Sets the Stage for Honest Politics
Source: Politiscope
Related Files
Additional Links