Former Heroin Addict Calls Drug-Free World "A Godsend"
Press Release
•
Sep 29, 2016
Former addict now training as a Christian minister uses the Truth About Drugs curriculum to help others.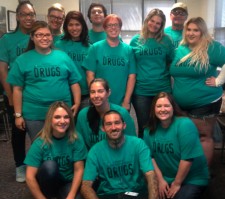 Bakersfield, CA, September 29, 2016 (Newswire.com) - ​Jerry of Bakersfield, California, is a former addict and Foundation for a Drug-Free World mentor, sharing his story with others to help them avoid the ruin drugs made of his life.
Jerry describes his childhood as a Hispanic growing up in Bakersfield in the 1980s and 90s as rough, but he was doing OK until his father deserted the family. Then 15, confused and feeling isolated, he found a sense of belonging in gangs—and methamphetamine.
Marriage and fatherhood pulled him out of the scene briefly until his wife, pregnant with their second daughter, left him. "I went back to meth," he says.
There followed a series of ups and downs, failed relationships and marriages, giving up meth and succumbing again.
He managed to pull himself up, stay clean, find good work and marry once more. Then the 2008 crash hit and the work dried up. He moved to Idaho in search of a job and found heroin—more deadly than the meth he was into before. "That is where my life went downward and quick," he says. "I lost everything I had, and I mean everything."
His addiction cost him his job. His now ex-wife, also an addict and desperate, began turning tricks to get them their next fix.
Jerry turned himself in for rehab and managed to stay clean for a while when another bad relationship sent him spiraling back into heroin. He became active in gang life again, pulling robberies to support his habit, overdosed several times and did time in jail. He could see he was either going to die or end up in prison for the rest of his life.
"Heroin became the only thing in my life that wouldn't let me down since I had shut out my family," he says. "My mom was my best friend my whole life, and once I started using heroin, I pushed her away because I was ashamed of what I had become."
Then last December, married again, his wife gave birth to their son Elijah, and child protective services immediately stepped in and took the baby away. That was when he decided to ask for help.
He and his wife are now clean, they regained custody of Elijah, and Jerry is back in college and training to become a Christian minister.
"Our son has never had to see us high," he says. "I don't have to worry if we will have to sleep in an alley, or if we will have money for diapers that I take for heroin."
"I got into drug prevention early in my recovery because I wanted to learn everything I could about my own addiction," he says. Searching online he found the Foundation for a Drug-Free World, ordered the educator kit and began delivering the program to addicts at the rehab center.
"I decided that I wanted to share what I learned with others because nobody wants to be a junkie or an addict." He describes the Foundation's Truth About Drugs materials as "very up to date…They don't hold anything back." Even seasoned addicts learn something new from one time through a Truth About Drugs booklet, he says.
"I take the booklets just about everywhere I go," he says. "Heroin use is drastically rising in Kern County and so many kids die from overdose. If they know as much as they can before they make a decision on whether or not to use, at least they have a fair chance."
Jerry describes the Foundation for a Drug-Free World as "a Godsend"—not just because it can and does save lives, but because every day it is actually saving his. "It gives me reason to get up in the morning and continue on in my recovery," he says, "because I know that I'm helping other people."
The Foundation for a Drug-Free World is a nonprofit public benefit corporation that empowers youth and adults with factual information about drugs so they can make informed decisions to live drug-free.
Supported by the Church of Scientology and Scientologists, the Foundation partners with civil and nongovernmental organizations. Through its worldwide network of volunteers and partnerships, it has distributed some 8 million copies of the Truth About Drugs booklets over the past year—more than 80 million since the booklets were first published in 2006.
Source: Church of Scientology International
Related Media