Former Fashion, Beauty and Health Editor of Vogue and Harper's Bazaar, Maureen Lippe Shares Her Most Personal Journey and One-of-a-Kind Formula for Success in Debut Book
Press Release
•
Jul 10, 2023
'Radical Reinvention' - Fearless Realignment in a Post-COVID-19 Complex World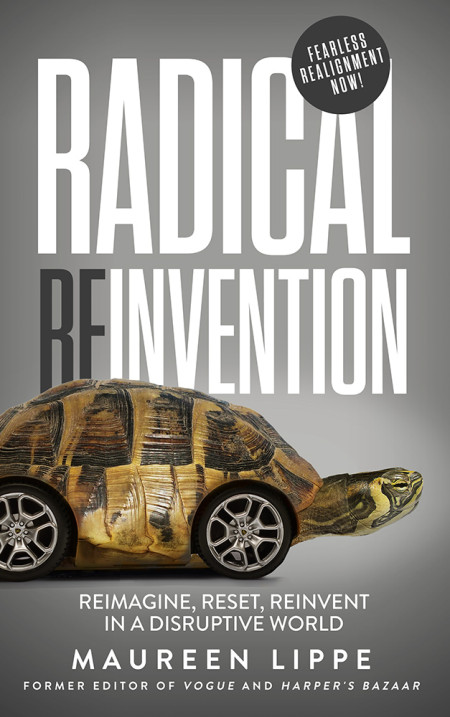 NEW YORK, July 10, 2023 (Newswire.com) - Follow the turtle on wheels! …That is, the one on the cover of Radical Reinvention: Reimagine, Reset, Reinvent in a Disruptive World. Rich with life stories that surprise and advise in heaping doses, the book coaches readers through a dynamic and modern 8-Step Reinvention Toolkit that Maureen Lippe personally created, tested, and verified with therapists and brave fire starters who are also featured. Company reinventions such as Lippe Taylor Group, LVMH (Louis Vuitton Moët Hennessy), and Wells Fargo command a large section of the book, with sterling tips by brand transformation experts.
"During the pandemic, I desperately tried to keep my company and my husband alive and healthy, and while we more than doubled the company at a time when many agencies were laying off or furloughing workers, I sadly lost my husband to COVID-19," said Radical Re-Inventor and serial reinventor Maureen Lippe, founder and chairman of iconic communications agency Lippe Taylor Group, based in New York City. "A Radical Reinvention is how I kept myself and my company alive. I went on a deep journey of rediscovery that was hard and radical, but I believe my story can help a lot of people who are struggling with the same need to reimagine and transform their lives and careers."
Over the course of 30+ years since the inception of her agency, Lippe has provided brand-building counsel to leading companies, including Procter & Gamble, Galderma, Pfizer, Bayer, Johnson & Johnson, Allergan, Walmart, Clairol, IKEA, Nestlé, Keurig, Dr Pepper, Constellation Brands, Intel, Nordstrom, and many more. Lippe began her career as a fashion editor at Vogue magazine and then served as beauty and health editor at Harper's Bazaar, where she was the first editor to incorporate health content into beauty pages. She was then an on-air correspondent on Live with Regis and Kathie Lee doing weekly makeover segments.
When Lippe's beautiful life was swept away after the loss of her husband, her big love of almost 40 years—causing terror, uncertainty, and painful grief—she managed to reclaim her identity and more than double her business. Miraculously, out of hard work and heartache, Lippe created her unique 8-Step Reinvention Toolkit, which helped her realign and discover new facets of herself—with many emotional moments and resonance that it could help others.
"The turtle has reigned in the art of reinvention for 90 million years—thus, I made it my chosen book motif to introduce my personal and professional journey. As we know, the turtle retracts when stressed. After reading this book, you will learn how to be more resilient and not retract for long. You must put your wheels on and move forward. I also included other extraordinary Radical Re-Inventors who will leave you breathless…and brave," added Lippe. Some include:
Samantha Lux, who Radically Reinvented her body to affirm her gender, with her mother, Irene Brank, who guides others to the radical resources they need for affirmation.
Eric Alva, who served in the Marines and helped to reinvent human rights in America after losing his leg in the Iraq War, playing an instrumental role in the repeal of the military's "Don't Ask, Don't Tell" policy.
Fern Mallis, who reinvented the entire fashion industry.
Alina Lee, teen golf star-turned lawyer and activist reinventing how lawyers treat their clients.
Craig Stanland, who made it his business to help people reinvent after he served two years in a federal prison and lost it all.
Liz G. Bailey, who fled her abuser to start over with her two kids, reinventing herself to teach the signs of domestic violence and speak out loud for other survivors to leave.
Halena Cline, whose paintings and sculptures grace galleries, museums, and private collections worldwide only after she released her mind, body and spirit from an infamous cult obsessed with Armageddon, a place where personal reinvention—not to mention, invention—is forbidden.
Radical Reinvention, published by Blue Moon Press, is now available at Amazon and other fine book retailers. A special price is also available for Amazon Prime Week.
All book proceeds to benefit Step Up Women's Network, a nonprofit helping provide structured mentorship programs, focused support, and inspiring connections to help girls, and those who identify with girlhood, define, and achieve their unique visions of success.
Source: Lippe Taylor Group