Former CIA Operative Emily Brandwin Shares Timely Tips for National Safety Month
Press Release
•
updated: Jul 3, 2018
Emily Brandwin Stops by TipsOnTV to Share her Personal Journey from Comedian to "Spy" to Safety Advocate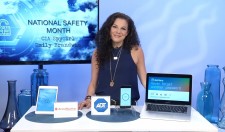 ATLANTA, July 3, 2018 (Newswire.com) - ​National Safety Month focuses on reducing the leading causes of injury and death at work, on the road, in communities, and at home. The National Safety Council recognizes this month to remind people just what they can do to eliminate preventable deaths through leadership, research, education, and advocacy. Emily Brandwin is a former CIA Operative and popular speaker who can tackle many of the safety concerns that many people might have. Discover how this former comic became a CIA operative and a nationally-renowned speaker and writer. Check out her website at www.CIASpyGirl.com.
A good place to start when it comes to being safe.
Safety begins at home, but it is best if people can take it with them. ADT is now on the Go and in the pocket at all times, offering real protection no matter where people are, with this new service called ADT Go. Having ADT on the Go provides people and their family with real protection backed by 24/7 live support. People are constantly being put into unsafe situations every day without even thinking about it. With this new service from ADT that provides 24/7 live support, one has a companion with them wherever they go, from their daily commute to enjoying a night out. Additional benefits include SOS Emergency Response, family location sharing, crash detection, driving reports, and more. The free download is currently available at the app store for Apple or Android. One does not have to be an ADT customer to use it. It is a great way to stay safe wherever people go. For more information, visit www.ADT.com.
How important is it to protect one's identity?
Protecting one's identity is one of the most important things that they can do. Most data breaches involve weak, default, or stolen passwords. The best way to protect passwords and personal information is with Dashlane's password manager. It is easy to use and ensures that a person will never forget another password or get locked out of an account again. Dashlane's instant security alerts quickly notify customers if any of their accounts is compromised or at risk. Best part – it is free for life on a single device, or one can access passwords on unlimited devices with Dashlane Premium. Emily shares that while it is impossible to remember all of the passwords and it is even worse if one wants to change them frequently, Dashlane does it for customers so they can rest assured their personal information is safe.
With Dashlane, customers have a unique password for every account ensuring that even if one account is breached, other accounts will be secure. According to Dashlane, the average user has over 150 accounts, so it is practically impossible to remember every password. Additionally, people using Dashlane save up to 50 hours a year by using the autofill feature, and the digital wallet allows for express checkouts across all websites. For more information, visit www.dashlane.com.
Suggestions for staying safe during severe weather.
While it is National Safety Month, it is also the start of Hurricane Season. When these big storms roll in people must be prepared to stay safe, so download the AccuWeather app. It gives 24/7 access to the most accurate real-time weather information. It is the world's largest and most trusted provider of weather forecasts and warnings. With MinuteCast, users can even get minute-by-minute precipitation forecasts for up to 120 minutes out, so people can better plan. It can really be a lifesaver during a storm. For more information, visit www.AccuWeather.com.
www.tipsontv.com
https://www.youtube.com/watch?v=qB7QOTs1URI
Contact: tipsontv@gmail.com
Source: TipsOnTV
Related Media