Former Bowling Green Dynamic Playmaker WR Ronnie Moore is Back From Injury and Better Than Ever
Press Release
•
updated: Jul 25, 2017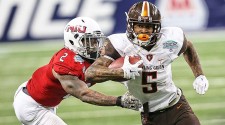 Orlando, FL, July 25, 2017 (Newswire.com) - After a sensational career at Bowling Green which included 198 receptions, 13.65 yards average per reception, and 24 touchdowns. Ronnie Moore was invited to the Cleveland Browns rookie minicamp. While in camp, Ronnie split time returning punts with 1st round draft pick Jabril Peppers and saw a lot of reps at the slot receiver position. During his time in Cleveland, he seemed to develop a strong on field relationship with future franchise QB DeShone Kizer. Frequently you could see Ronnie explode out of a break just in time to catch one of Kizer's fastballs. During a 7 on 7 drill Ronnie dove to catch an under thrown ball on a shallow crossing route, but safety Najee Murray arrived a split second later driving Ronnie's shoulder into the turf and spraining his AC joint. Ronnie's rookie mini-camp was over, but his story is not and it's possible the injury and his experience during recovery will make him a better pro.
One week after Ronnie left the Browns he started a comprehensive injury recovery program at D1 Sports in his hometown of Orlando, FL. The program is geared to increase shoulder mobility and strength. The man at D1 behind Ronnie's recovery and conditioning program is training guru to the pros, Tyrone Davis.
"His first step off the ball is like no other I have ever seen"

Tyrone Davis, Performance Specialist, D1 Sports
We sat down with Ronnie and Tyrone this week to find out the inside story. When we asked Ronnie how he landed at D1 he stated "after my pro day I came back to Orlando and heard from my friends that play in the NFL that D1 and Tyrone Davis is the best place to prepare myself both mentally and physically to be a pro. When I came back to D1 after my injury I had the luxury of having the rehabilitation team and Tyrone and his team all under one roof. I quickly developed a great relationship with the rehab folks and it made my recovery so much smoother. It's a real nice atmosphere here. Everyone treats you like family. We work hard, respect one another, and push ourselves to the limit". When asked about Tyrone and his workouts Ronnie laughed and then offered "he'll get you!" "Every workout is amazing. Tyrone has helped me increase my range of motion and flexibility. My cardio and explosiveness has never been better. I was disappointed when I got hurt, but I truly feel I'm much better prepared now than I was in June. I now know what to expect, I know I have the talent to make the 53 man roster, and I know what I have to do to get the job done." Ronnie finishes his thought with "I'm ready for action!"
Tyrone Davis first started training athletes over 21 years ago and was certified as a performance specialist in 2001 at Athletes Performance (now known as EXOS). Prior to training athletes, Tyrone was a police officer/undercover Narcotics agent for 14 years. We asked Tyrone to tell us about D1 Sports. It's a corporate sports training facility with approximately 32 plus facilities. Most facilities are owned by former or retired professional athletes of all sports, said Davis. With such a long track record of working with athletes what is it about Ronnie Moore that makes him special? His response was attention catching…"Ronnie is energetic, quick and very smart. While throwing with Paxton Lynch, I saw him adjust how he caught the ball and the angle he took based off the velocity of Paxton's throws. His first step off the ball is like no other I have ever seen". Since Ronnie had been with me I have seen a great change in strengthening his body foundation over getting bigger and stronger shared Davis. He concluded our meeting by stating "Ronnie is a very humble young man and eager to learn".
So Ronnie what makes you special and why are you confident you'll be playing on Sunday's?
"I'm a playmaker. Not all receivers are playmakers. Every time I touch the ball I can score or create a big play. I've played defense in college (junior year played nickel against Purdue and CB covering this year's #5 pick Cory Davis from Western Michigan) so I understand coverages, schemes, and leverage which is a big advantage I have that most receivers don't". Ronnie's agent Dan Smith at Inspired Athletes commented "Ronnie is so calm under pressure and confident in his skills so the lights are never too bright for him. He'll have opportunities over the next few weeks to flash his playmaking ability and earn a roster spot. He has a knack for finding the end-zone and that's the name of the game".
The next few weeks for Ronnie Moore will certainly be interesting so stay tuned and get ready to see him making plays in the Fall.
Source: D1 Sports
Related Media
Additional Links