Former All-Pro NFL Fullback Ovie Mughelli's Big Game Party Fun
The Former Pro Bowl NFL Veteran & Current Network TV Football Analyst Shares his Secrets for Having a Good Time Supporting his Super Team
Press Release
-
updated: Feb 4, 2017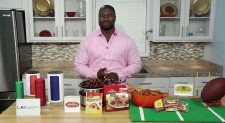 Atlanta, GA, February 4, 2017 (Newswire.com) - ​​​At 6-foot-1, 250-pounds, Ovie Mughelli was a bruising fullback for more than a decade in the NFL. The former All-Pro player was known for punishing linebackers, but also for his engaging personality and ability to have fun with his teammates both on and off the field. Now, Mughelli is a sports analyst and still enjoys watching the big games with family and friends. Just in time for the Big Game on February 5th, he shares his can't-miss Big Game party tips on Tips on TV.
MUGHELLI'S FAVORITE DISH WHILE WATCHING THE BIG GAME
"It's not a real football party unless you have Smoked Sausage. Chili is a great winter crowd pleaser, so I put the two together with a Smoky Sausage Chili recipe. I like to use Eckrich Smoked Sausage because it's naturally hardwood smoked, which gives the chili just the right blend of spices and smokiness," said Mughelli. "It's so easy to make. Just add bell peppers to a large saucepan. Stir in chili powder, fire roasted diced tomatoes, beans and some chunky salsa. Then, you add a package of Eckrich Skinless Smoked Sausage, cut into bite-sized pieces and simmer for another six to eight minutes. In 30 minutes you'll have delicious chili. For the full recipe, go to www.Eckrich.com."
Eckrich Smoky Sausage Chili Recipe
Smoked Sausage makes this chili a bold, comforting side or meal.
Prep Time: 15 minutes
Total Time: 30 minutes
Makes 8
Ingredients
1 regular size package Eckrich® Skinless Smoked Sausage, cut into bite-sized pieces
2 green bell peppers, chopped
2 tablespoons chili powder
2 14.5 oz cans fire roasted diced tomatoes, undrained
1 cup chunky salsa
2 16 oz cans pinto or red beans, rinsed and drained
Garnishes: shredded cheddar cheese, sour cream, chopped cilantro
Directions
Cook bell peppers in a large saucepan coated with cooking spray 2 minutes.
Stir in chili powder and cook 1 minute.
Add tomatoes and salsa; simmer 8 minutes.
Stir smoked sausage and beans into chili. Simmer 6 to 8 minutes or until chili is slightly thickened.
Ladle into shallow bowls; garnish as desired.
MUGHELLI'S FAVORITE DISH TO SERVE PARTY GUESTS
"I let my friends think I make these delicious barbecue glazed meatballs from a family recipe, but really I found it online at www.ArmourMeats.com and use Armour Original Meatballs," said Mughelli. "This simple recipe is terrific for entertaining because Armour has done most of the work for you. Just combine one cup of barbecue sauce with one cup of grape jelly in a large saucepan. Add Armour Original Meatballs and cook on medium-low about fifteen minutes. You can find Armour Meatballs in the freezer section of your local grocery store. Armour also has great-tasting Pepperoni which you can easily add to a frozen pizza or to your cheese and cracker plate for the game."
Armour Barbecue Glazed Meatballs Recipe
A delicious and easy recipe for a crowd pleasing appetizer.
Prep Time: 20
Total Time: 20
Makes 16
Ingredients
  1 bag (14 ounce) package Armour® Original Meatballs
  1 cup barbecue sauce
  1 – 1.5 cups grape jelly
Directions
Combine jelly and barbecue sauce in a large saucepan.
Cook and stir over medium heat until jelly melts.
Add Armour Original Meatballs and heat over medium-low heat 15 minutes, or until meatballs are hot and glazed, stirring occasionally.
Serve in slow cooker set on low, if desired.
HOW TO MAKE SURE YOUR VIEWING PARTY IS THE ONE TO BEAT
"If you're having a viewing party, pick up UE BOOM 2 and UE MEGABOOM wireless Bluetooth speakers from Ultimate Ears. They will seriously amp up your party," said Mughelli. "I have one and I love it. The UE systems blast 360-degree sound and are designed to get wet, dirty and beat up, so you don't have to worry about that nacho cheese spill during the Big Game. In fact, with Ultimate Ears speakers, you can make the biggest party of the year even bigger, better, and louder with PartyUp, a feature in the Ultimate Ears app, that lets you connect as many UE BOOM 2 and UE MEGABOOM speakers you can get your hands on. No party is too small or too big to blast your favorite songs with Ultimate Ears' speakers in PartyUp mode while you are waiting for kickoff or celebrating a victory. For more information visit, www.UltimateEars.com."
About Eckrich
Founded by Peter Eckrich in 1894, Eckrich has a rich heritage starting from a small meat market in Fort Wayne, Ind. Through it all, Eckrich meats have been recognized for their great taste and supreme quality, craftsmanship, care and pride. For more information, visit www.eckrich.com.
About Armour
With America's favorite frozen meatballs, LunchMakers portable meal kits, and pepperoni products, Armour® is proud to be a trusted brand that provides convenient, delicious and affordable meal options for smart, sensible families since 1867.
About Smithfield Foods
Smithfield Foods is a $14 billion global food company and the world's largest pork processor and hog producer. In the United States, the company is also the leader in numerous packaged meats categories with popular brands including Smithfield®, Eckrich®, Nathan's Famous®, Farmland®, Armour®, John Morrell®, Cook's®, Kretschmar®, Gwaltney®, Curly's®, Margherita®, Carando®, Healthy Ones®, Krakus®, Morliny®, and Berlinki®. Smithfield Foods is committed to providing good food in a responsible way and maintains robust animal care, community involvement, employee safety, environmental and food safety and quality programs. For more information, visit www.smithfieldfoods.com.
Source: Ovie Mughelli, Tips on TV
---
Categories: Media and News, Public Relations
Tags: big game, entertaining, ovie mughelli
---