Forget What You Think You Know About the Israel-Palestine Conflict
Jeremy R. Hammond's new book Obstacle to Peace: The US Role in the Israeli-Palestinian Conflict explains not only why peace in the Middle East has remained so elusive, but also why you won't hear the answer from the US government or mainstream media.
Press Release
-
Jun 20, 2016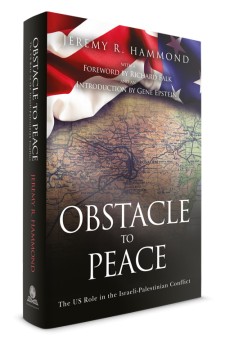 Cross Village, Michigan, June 20, 2016 (Newswire.com) - ​​​Worldview Publications will release Jeremy R. Hammond's new book, Obstacle to Peace: The US Role in the Israeli-Palestinian Conflict on July 9, 2016.
In a meticulously documented account, Jeremy R. Hammond deconstructs standard mainstream narratives about the conflict, shattering popular myths and navigating the maze of conflicting information to reveal a clear direction forward.
The publication date coincides with the anniversary of the International Court of Justice's 2004 advisory opinion finding that Israel's settlements and separation wall in the occupied West Bank are violations of international law.
The Court's ruling underscores the legal foundations of the two-state solution to the conflict, which include the requirement of international law that Israel fully withdraw from the Palestinian territories it occupied during the June 1967 "Six Day War".
As Obstacle to Peace details, the framework for negotiations under the US-led "peace process" is one that rejects the applicability of international law. Far from being designed to produce a peaceful settlement, the so-called "peace process" is the process by which Israel and the US block implementation of the two-state solution.
The book sets out to demonstrate that US policy is itself a primary impediment to a peaceful solution and constitutes a rejection of the right of the Palestinians to self-determination. The book also closely examines the role of the mainstream media in manufacturing consent for the US's rejectionist policy.
"Obstacle to Peace is a call to action," says author Jeremy R. Hammond. "To achieve peace, there needs to be a proper understanding about the true nature of the conflict. The book's purpose is to empower readers with knowledge to effect the necessary paradigm shift."
Obstacle to Peace will be available on July 9 from Amazon.com and other fine retailers, in both hardcover and paperback editions, with electronic editions later to be announced.
Review copies are available, and the author is available for interviews. View the media kit at:
http://www.obstacletopeace.com/media-kit/
# # #
About the Author
Jeremy R. Hammond is an independent political analyst and publisher and editor of Foreign Policy Journal. In 2009, he received the Project Censored Award for Outstanding Investigative Journalism for his coverage of the US's support for Israel's 22-day full-scale military assault on the Gaza Strip, "Operation Cast Lead" (Dec. 27, 2008 – Jan.18, 2009). He is the author of three books: The Rejection of Palestinian Self-Determination (2009), Ron Paul vs. Paul Krugman (2012), and Obstacle to Peace (2016) Find him on the web at JeremyRHammond.com.
Obstacle to Peace: The US Role in the Israeli-Palestinian Conflict
Jeremy R. Hammond
Worldview Publications
P.O. Box 181, Cross Village, MI 49723
Publication Date: July 9, 2016 • ISBNs: 978-0-9961058-0-4 (hardcover); 978-0-9961058-1-1 (paperback) • 538 pages • Trim Size: 6" x 9" • $37.99 (hardcover); $22.99 (paperback) • Political Science/History
Source: Worldview Publications
---
Categories: Books, Politics, International News, Diplomatic Relations, International Law, Political Science, Media and News
Tags: Books, Conflict Resolution, Diplomacy, Foreign Policy, International Relations, Israel, Palestine, Political Science, United States, World History
---