ForgeFX Simulations Delivers Virtual Reality Training Simulator to WMATA
Press Release
•
updated: Oct 23, 2018
ForgeFX Simulations has delivered a custom virtual reality-based simulator to the Washington Metro Area Transit Authority for heavy rail operator training.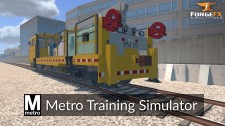 SAN FRANCISCO, October 23, 2018 (Newswire.com) - ForgeFX Simulations is proud to be a training simulator vendor for the Washington Metropolitan Area Transit Authority (WMATA), a government agency that operates transit service in the Washington metropolitan area. WMATA provides rapid transit service under the Metrorail name, more commonly referred to as a Metro, the third-busiest rapid transit system in the United States in terms of passenger trips. ForgeFX developed this rail operator training simulator for Metro heavy rail rapid transit system operators in order to train operators faster and for a fraction of the cost, all within a safe, risk-free virtual environment.
http://forgefx.com/simulation-projects/public-transportation-heavy-rail-training-simulator.
WMATA hired ForgeFX to develop a 3D immersive computer simulation to help change operator behavior for the better. The simulator helps Metro operators by increasing risk awareness and hazard identification to improve proactive problem solving and greatly enhance equipment operator training. Leveraging high-fidelity graphics, an immersive virtual reality-based environment, and a fully interactive virtual facsimile of the prime mover allow WMATA and ForgeFX to deploy a highly-effective training simulator that helps improve operator's critical thinking as well as command and control of railway procedures and protocols.
The Metro Training Simulator allows users to implement the startup procedure, including everything from checking the load, to testing the air dump button, to removing the chocks. The simulation integrates switching logic to enable the user to throw switches manually in order to begin to move from a start position to the main line while observing and avoiding foul points. The trainee is able to disembark from the train, walk to a switch, throw the switch, and return to the cabin to control the train which follows the track according to the switching logic.
ForgeFX Simulations provide custom virtual and augmented reality application development services for clients who are looking for interactive 3D simulators. http://www.forgefx.com
The Washington Metropolitan Area Transit Authority, commonly referred to as Metro, is a tri-jurisdictional government agency that operates transit service in the Washington metropolitan area. https://www.wmata.com.
Source: ForgeFX Simulations
Related Media
Additional Links