Forest2Market do Brasil Launches Timber Supply Analysis 360, a Forest Resource Analysis and Forecasting Tool
Press Release
•
updated: Apr 10, 2019
Timber Supply Analysis 360 provides the industry and its investors with forest inventory data and allows Forest2Market do Brasil to build robust, long-term supply forecasts and support forest products industry expansion in Latin America.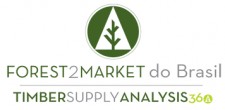 CURITIBA, Brazil, April 10, 2019 (Newswire.com) - Forest2Market do Brasil launches Timber Supply Analysis 360, an interactive, map-based tool that provides forest inventory data to decision makers in the forest products industry. This tool allows a user to select custom areas based on the location of a forest, the planned location of a new facility or around an existing facility with expansion plans. Once the location is selected, the tool provides the following data for the selected area:
Hectares
Species
Total volume by species
Volume by product
Age class distribution
"The interest in investments in forests and forest products industries in Brazil and the rest of Latin America is growing," says Marcelo Schmid, Director of Forest2Market do Brasil. "A persistent obstacle to securing these investments is the lack of data quantifying forest resources. To support their decisions, investors require assurances that markets for timber will exist when timber is ready to harvest or that timber supply is robust enough to support ongoing operations once a manufacturing facility is built. By using proprietary change detection algorithms and satellite imagery to develop age class profiles of forests, Forest2Market do Brasil continues to support the development of the forest products industry. Timber Supply Analysis 360 brings transparency and visibility to Brazil's forest resources and gives the industry data it can rely on to make multimillion-dollar decisions with confidence."
Timber Supply Analysis also provides the base data that Forest2Market do Brasil uses to produce long-term supply, demand and timber price forecasts. "In order to invest in a manufacturing facility or a plantation that could have a lifespan of 20+ years, companies need to look at the projected supply and projected demand and understand the effect that the relationship between these factors will have on future timber prices," says Pete Stewart, founder, President and CEO of Forest2Market. "In the United States, we've been using government inventory data to produce forecasts of U.S. timber supply and prices for the better part of two decades. With Timber Supply Analysis 360, we've replicated this dataset for Brazil. And now we can use this data, apply growth and yield models to simulate forest growth and our supply chain expertise to quantify local demand to produce long-term forecasts of forest inventory, supply and demand, and price."
Since its inception in 2013, Forest2Market do Brasil has been providing Brazil's forest products industry with greater transparency around timber prices. For more than five years, Forest2Market do Brasil's Delivered Price Benchmark has helped Brazilian companies better understand their raw material costs and optimize their supply chains for better results. Timber Supply Analysis 360—available for Mato Grosso do Sul, Minas Gerais, Paraná and Santa Catarina—is available through subscription, and customized forecasts are available on a case-by-case basis.
Use Cases
Either because of expansion (installing a new pulp line, for instance) or because a new facility is announced in its supply area, a pulp mill is concerned that new demand will drive up prices in its local market.
A pulp mill is currently oversupplied and needs to know if this is a short- or long-term issue.

If short, no action is required.
If long, the mill might choose to sell timberland and redeploy capital.

A timberland investor is contemplating purchase and needs to understand the forward price risk.
A timberland investor is making a hold or sell decision and needs to understand forward demand, supply and price.
A timberland manager is deciding what species to plant post-harvest and needs to understand demand by product and gaps that exist in supply.
Forest2Market do Brasil is a Brazilian company, headquartered in Curitiba and jointly owned by Forest2Market and Grupo Index. Formed in 2013, Forest2Market do Brasil uses Forest2Market's methodology to enable participants in the forest, wood and paper, biochemical and bioenergy industries to make better decisions by applying industry expertise and unique data sets. As a company that believes the only way to get a real understanding of the market is by collecting transactional data, Forest2Market do Brasil has a unique, current and exclusive database of delivered transactions and a comprehensive data collection infrastructure, which enables the collection of millions of transactions every year. It is a neutral third party, independent in ownership and structure, that quantifies stumpage, harvest and freight costs, providing unprecedented insight into the timber supply chain. Forest2Market do Brasil plans to expand its forest inventory tool, Timber Supply Analysis 360, throughout Latin America.
Media Contact:
Suz-Anne Kinney
+1-980-233-4021
suz-anne.kinney@forest2market.com
Source: Forest2Market do Brasil