Forefront Telecare, Behavioral Health Solution for Rural Americans, Completes $15 Million Growth Equity Funding Round
Press Release
•
updated: Apr 23, 2019
Company adds new investors, clients and headquarters as part of growth plans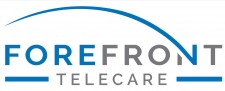 HAMILTON, N.J., April 23, 2019 (Newswire.com) - ​Forefront Telecare, Inc. (Forefront), the leader in behavioral telehealth solutions for vulnerable seniors in rural communities across the United States, today announced that it added two new investors to a growth equity funding round. The investors, Tech Council Ventures and Boston Millennia Partners, join lead investors Spring Lake Equity Partners and the Ziegler Link-Age Fund in the round, totaling $15 million. In addition, the company opened an office in Hamilton, New Jersey to complement its California offices, as it attracts leaders in health care, technology, data and analytics, and other functions.
"Serious problems, including the shortage of psychiatrists nationwide, the lack of access to high-quality behavioral health options in rural communities and the mental health crisis among older Americans point to the burning need for Forefront as a critical part of the health care ecosystem," said Rob Rebak, Chief Executive Officer. "As we continue to expand, Forefront is pleased to add new client facilities for several of the nation's largest health care services companies that offer our technology-enabled solutions to rural hospitals, skilled nursing facilities and other partners across 26 states."
Rural America, Seniors Facing Behavioral Health Crisis
America's psychiatrist shortage is well-documented and points to serious issues for people living in low-access areas. For example, a recent study by Merritt Hawkins concluded that "the shortage of psychiatrists is an escalating crisis of more severity than shortages faced in virtually any other specialty." Research published by the New American Economy found more than 60% of all counties in the United States, including 80% of all rural counties, do not have a single psychiatrist. The study also found that, in rural counties, just 590 psychiatrists serve more than 27 million Americans. Lastly, a troubling, recent CDC report titled "The State of Mental Health and Aging in America" found that at least 20% of Americans over 55-years-old experience a mental health problem every year.
Investment in Scaling Operations
Forefront plans to use this investment to grow its nationwide network of psychiatrists and psychiatric nurse practitioners, further develop its HIPAA-compliant telehealth platform and expand into new states. The company's new office in Hamilton, New Jersey will house senior management team members across several functional areas. Mr. Rebak has been a leader of multiple high-growth, health tech businesses and will attract proven and passionate talent who share in Forefront's mission.
"We are proud to partner with an innovative, technology-enabled company that is determined to solve a major health care problem," said Jim Gunton, General Partner at Tech Council Ventures. "I've known Rob for a number of years and really admire his ability to scale operations while maintaining the company's heart and soul. The Forefront team will achieve great things and positively impact many lives along the way."
"Forefront's ability to leverage technology and services to improve the capacity of psychiatrists to serve their patients will help bridge the gap between behavioral health provider supply and patient demand. We are encouraged to work with this talented team to solve a complex problem that affects millions of Americans," said Frank Silva, Principal at Boston Millennia Partners.
About Forefront Telecare, Inc.
Forefront is a pioneer and U.S. leader in the delivery of behavioral health services via our unique HIPAA-compliant telehealth platform, which incorporates software, hardware and comprehensive service protocols developed over years in the field. Our national provider network of psychiatrists, psychiatric nurse practitioners and other behavioral health professionals work with Forefront to serve the behavioral health needs of our clients and patients. Through flexible scheduling technology, management systems and logistics support, combined with our deep behavioral health experience, Forefront is able to deliver solutions that effectively integrate with existing client systems and workflows.
Media Contact:
Forefront Telecare, Inc.
Phil Knudsen
Phone: 510.225.0605
Email: press@forefronttelecare.com
###
Source: Forefront Telecare, Inc.