Fophie - A Revolutionary 7-in-1 USB-C Hub & 15W Qi Wireless Charging Phone Stand - Announces Launch
Press Release
-
updated: Jul 7, 2020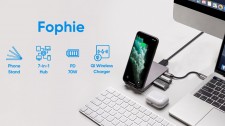 LOS ANGELES, July 7, 2020 (Newswire.com) - YOOTECH, a worldwide leader in the wireless charging industry, announces the launch of Fophie - The Ultimate multi-port USB-C hub & convertible phone stand with Qi wireless charging for iPhone & Android. Fophie gives users a convenient hub to handle all charging and data transfer needs. Available now on Kickstarter: https://www.kickstarter.com/projects/719569370/a-7-in-1-usb-c-hub-15w-qi-wireless-charger-phone-stand.
Today, everyone finds themselves struggling with a desktop that is a tangle of cords, storage devices and charging cables that use different ports. This situation is especially true for those working across different ecosystems such as Apple and PC. The new Fophie hub and charging solution from YOOTECH solves those problems with an elegant multi-port USB-C hub and convertible phone stand with built-in Qi wireless charging. This versatile product simplifies device connection in a sleek, compact design.  
Fophie transforms a single USB-C port into seven useful connections, including 4K HDMI, MicroSD, SD, 2 * USB 3.1, and USB-C power delivery & data transfer along with a 15W Qi wireless phone charger. Fophie takes care of all power needs, allows multiple simultaneous connections and eliminates unnecessary charging cables. The device is available in two versions, a wired version (Fophie) and a wireless version (Fophie Pro) to handle any situation.
"As our digital lives become more complex, we find ourselves with more devices for communication, business and entertainment. People are just as likely to work from a smartphone as a laptop and often moving between different workspaces and home. Our goal with Fophie was to create a versatile hub that can seamlessly connect all the tools we use daily, provide fast wireless charging for phones and take advantage of the latest in USB-C technology. Now, a single compact hub can eliminate messy cables, speed charging and make multi-port connections between laptops, phones, monitors and data storage devices. Fophie is small enough to fit in a pocket for go-anywhere convenience yet powerful enough to be the last hub anyone would ever need," said Mars Lu, YOOTECH CEO.
Most flagship smartphones are wireless-charging ready so Fophie utilizes the latest Qi wireless charging protocol that supports up to 15W ultra-high-speed charging. It gives users a fast way to keep their phones powered up without the need to carry extra chargers. Phones can charge directly from the Fophie convertible phone stand, while flat or upright, in landscape or portrait mode. This exciting new product is currently being introduced on Kickstarter with special pricing to reward early supporters. Learn more here: https://www.kickstarter.com/projects/719569370/a-7-in-1-usb-c-hub-15w-qi-wireless-charger-phone-stand.
Media Contact: mars@iyootech.com
Source: YOOTECH
Share:
---
Categories: Consumer Electronics
Tags: Hub, Kickstarter, Phone Stand, Wireless Charging
---