FootVolley: Swiftly Becoming America's Most Entertaining Sport.
Press Release
-
updated: Jul 10, 2017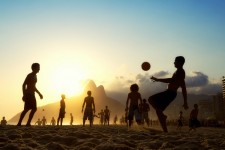 Miami, Florida, July 10, 2017 (Newswire.com) - Over the past century, America's sporting culture and pedigree has been predominantly exemplified by its love for Football, Basketball, Baseball And Hockey. The most notable absence in terms of relative popularity has been Soccer, which ironically happens to be the most popular sport in the world. Since the advent of the world wide web era, the ease in relaying information from one end of the world to the other has given exposure to the masses to a lot of the less popular, non mainstream sports and eventually paved the way for their adoption, such as Cricket, and Mixed Martial Arts (MMA).
One such new emerging sport has quickly enjoyed an unprecedented and steep rise in popularity and has taken the country by storm, as evidenced by its ever increasing spotting on the beaches of the country that draws massive crowds. This sport, known as FootVolley, traces its roots back to the Brazil of 1970s and is essentially is a fusion of football and volleyball; only instead of the hands, a combination of feet and head is used to get the ball over the net into the opponent's side. It's a 2 versus 2 game played on sand to ensure minimal impact on landing.
A lot of the frenzy surrounding the sport originated from its premier involvement at the 2016 Rio Olympics as a demonstration sport, which caught the imagination of hundreds of thousands of Americans. Team USA's 4 member contingent for the sport reached the quarterfinals in Men's and finished 4th in Women's. The National governing body, USA FootVolley regularly holds trials, open championships and competitive tournaments to assess the best candidates to represent the country.
Emmanuel Ventouris, a senior level coach and scout for the organization, believes there's a great variety of talent to be unearthed at these competitions, but there are some who have managed to stand apart head and shoulders ahead of their competition. "If the Olympics were to happen tomorrow, I already know my top two picks who I could count upon. These are the best in the country, and by a margin. Wade Nodine and Walid Soliman for the Men's team, and Teresa Callen and Christina Inserillo for the Women's team. You have to see them play, unbelievable. The acrobatic ability and skill they possess is top notch. Looks like you're watching a Hollywood stuntman perform tricks."
It is indeed this sheer flair and showmanship on display that mesmerizes audiences, as it combines the most exhilarating, exciting and skillful aspects of football and volleyball. It is a roller coaster of emotions for the crowd, who get to regularly see unbelievable moves like bicycle kicks, scorpion kicks. However, the most breathtaking move is the 'shark attack': A player jumps upside down in order to smash the ball with flat part of the foot leaving them airborne at a height greater than 7 feet 2 inches, the height to the top of the net. Walid and Wade are the embodiment of mastery of this skill, and have a huge, almost cult like following on popular internet video streaming website Youtube owing to it.
A common passion for the sport is not the only thing this duo shares though. "Wade and I have pretty much grown up together. We are both first generation Americans, and have been best friends from the age of 10. Wade's family hails from the south of France, where FootVolley was a common recreational game. He's the one who introduced me to it. It's more than just a sport for us. Last year Wade's dad got diagnosed with stage 2 lung cancer, and it was a hard time for the family. Both his and my parents are blue collar workers, so we obviously did not have the money to provide him with the best treatment. We had to come up with a way so we improvised. Wade and I entered every single competitive FootVolley tournament we could and we won 10 out of 11. The total prize money we won from those tournaments was used towards his dad's treatment and guess what he's made a complete recovery now! No more cancer!"
Coach Ventouris' top two female picks Teresa Callen and Christina Inserillo have also had interesting journeys. Christina, a mother of two, is a yoga instructor and a soccer freestyler from California. There are only a handful of women soccer freestylers in the world, let alone America. In a bid to encourage other females to take up sports, Teresa used social media to share videos of herself free-styling against a number of well known professional male soccer players.
After these videos had gone viral, she was contacted by a scout on behalf of USA FootVolley to come and try out for this newly popular sport. Christina, a former professional soccer player, had gotten divorced in 2014 and was looking for a fresh new challenge and way to rejuvenate herself. She embarked on a solo trip to Brazil to re-find her lost happiness when she first came across this exciting sport. "It was love at first sight. I took to it like a duck takes to water. It helped me through a tough time in life and has given me so much happiness." She is currently engaged to Gabriel Jesus, a well known Brazilian FootVolley World Champion.
The beaches of Miami and South Florida have been particularly burning with FootVolley fever. It's not just the players though, fans are effervescent as well. Jay Adams, a recent convert-turned-fanatic was so smitten by the sport that he now travels around the country to attend FootVolley tournaments. "It's pretty much the ultimate beach sport; it's simple, easy to get started, beautiful to watch and a whole lot of fun.
Florida beaches are a popular tourist attraction, and you often see people from different countries get together to start a game. It breaks language barriers. My first game was here only, it was me and this guy from Brazil versus two guys from Italy." The Pro FootVolley Tour, the professional tour of the United States, has signed TV deals for broadcast rights in over 15 countries, including USA. America might just have found a way to make soccer more popular, albeit with an interesting twist!
Source: Emmanuel Ventouris
Share:
---
Categories: Sports, Fitness, and Recreation, Recreation and Sports, Sports
Tags: Christina Inserillo, Emmanuel Ventouris, Teresa Callen, Wade Nodine, Walid Soliman
---