Football Club Adopts Truth About Drugs as a Social Responsibility Program
Press Release
•
updated: May 27, 2017
Bringing the Truth About Drugs to South African high schoolers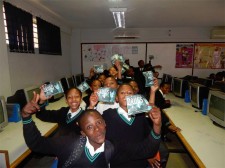 Geluksdal, South Africa, May 27, 2017 (Newswire.com) - South Africa's Jomo Cosmos Football Club is giving back to its hometown, Geluksdal. The team has adopted the Truth About Drugs campaign of the Foundation for a Drug-Free World as part of its social responsibility program, with drug awareness sessions for the students of Geluksdal High School.
Their first session was held in coordination with the school administrator, who has been using the Foundation's materials for the past several years.
Two topics were discussed:
"Don't Disappoint the Man in the Mirror." This took up staying true to oneself and not permitting drug abuse to prevent accomplishing goals. The second was "Is the 'holy herb' (cannabis) holy?" Here, with the help of Truth About Drugs booklets, learners were able to look at what they've heard about the drug and separate the hype from the facts.
"Cosmos aims to reach over 5,000 learners by the end of the year," said the administrator. "I am delighted to report that the event at the school was a success" and she is confident that providing them with the truth about drugs will help "ensure a happy and healthy transition from adolescence into adulthood."
The Church of Scientology and its members support the Foundation for a Drug-Free World whose Truth About Drugs campaign is one of the world's largest nongovernmental drug education and prevention initiatives. Thanks to this support, the Foundation provides drug education booklets, videos, and educator guides to teachers, mentors and civic and community leaders wishing to use the program.
According to the United Nations Office on Drug Abuse and Illicit Trafficking, "Every dollar spent on prevention can save governments up to ten dollars in later costs."
Source: ScientologyNews.org
Related Media