Food Safety Innovator Launches haccp.com
And gives you access to online resources never before seen for the Food Sector
Press Release
-
updated: Sep 14, 2017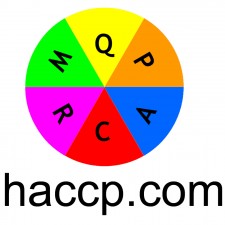 BRISBANE, Australia, September 14, 2017 (Newswire.com) - With ever-increasing pressure on food businesses to maintain compliance with customer, regulatory and industry standards, allergen management, food fraud and food safety culture, Alimentex has formally launched haccp.com. The 'world first' platform was created to support food businesses and food industry professionals in achieving and maintaining the stringent requirements of food industry compliance.
"haccp.com is very important to us as it allows our clients to quite literally save hundreds of hours and thousands of dollars each year in the management of their food safety and quality programs," said Aron Malcolm, Managing Director of Alimentex. "One of the things that make us unique among all other food compliance specialists is our ongoing commitment to our clients and the food sector in general. We've invested well over 3/4 of a million dollars to develop the world's premier online food safety and quality resources to assist food businesses with the management of their food safety obligations."
The platform includes world first technology that allows any food business to create tailored, editable Food Safety and Quality Program Manuals and Checklists at the click of a button. For a single fee of $875 per year, Users also get access to unlimited staff training over 50 courses relevant to GFSI Standards.
"We've also taken the hard work of managing your Approved Suppliers. You can use our system to find existing or new suppliers and request access to their Approved Supplier Documentation online. Our system reminds document owners and their customers of pending expiry. Suppliers also benefit by only having to upload their current Approved Supplier Documentation once, after which any of their Approved Customers can freely access these. You can also manage approved supplier questionnaires through our platform," said Aron.
A seasoned high-risk food safety auditor and consultant, Aron Malcolm has visited over 4500 food businesses in over 35 countries during the past 17 years. Because of his extensive background in the food compliance sector, Aron knows exactly what it takes to develop, document, and maintain systems which meet the abundance of Regulatory, Industry and Customer Standards. "Too many food businesses that waste their time, effort and budget on advice and resources that don't genuinely meet their needs. Our platform is agile and flexible so it can be successfully applied alongside existing food safety programs, or as part of a comprehensive new program. Whether you're a small mom and dad business, or a large multi-national conglomerate, you will gain substantial savings from using our resources," said Aron.
Founded in 2000, Alimentex is an experienced and reputable food industry consultancy with clients around the globe. Alimentex specializes in improving food compliance outcomes through the creation of efficiency and superior system integration. For more information, call +61 07 30409222 or visit http://www.alimentex.com. 
Source: Alimentex
---
Categories: Food and Beverage Manufacturing, Food and Beverage Services, Food Sciences
Tags: BRC, Food Fraud, Food Safety, Food Safety Culture, FSSC 22000, GFSI, HACCP, IFS, SQF
---