Fonon Introduces Flexion™ Technology in CleanTech Laser Surface Cleaning Products
Press Release
-
updated: Feb 21, 2017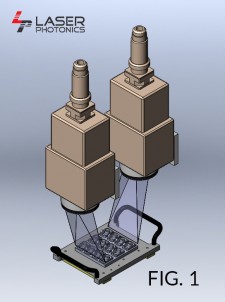 Orlando, FL, February 21, 2017 (Newswire.com) - Fonon Corporation today announced the release of Flexion™ technology to be incorporated in the CleanTech™ product line. Marketed under the Laser Photonics™ brand, CleanTech laser products are used for surface preparation, paint removal, and surface cleaning. The newly released CleanTech systems offer a non-abrasive cleaning process that is safer and more eco-friendly.
Flexion technology provides a distinct advantage over other laser cleaning systems on the market. Flexion technology allows CleanTech to remove rust, paint, anodization, and other surface materials in areas that are typically difficult to reach. Most other systems are statically positioned which limits the laser cleaning ability to only the static path of the trajectory beam.
As an analogy, imagine the sun and the direction of its rays hitting an object at 12 o'clock noon. The sun's rays either hit the object directly over the top or depending on the object's angle from the sun, it will hit the side of the object that is exposed to the sun's rays, thereby leaving the other areas unaffected.
The CleanTech Megacenter with Flexion technology offers a motion control stage that operates in both x and y axis, allowing the ability to move in various directions and clean nested parts under the path of the trajectory beam path (FIG. 1). This unique technology allows the laser cleaning process to efficiently affect 100% of all sides of the exposed parts. The Megacenter is available as a standalone or can easily be integrated into a production line.
"Fonon's Flexion technology opens the door for smaller companies to adopt the most advanced laser technology for modern manufacturing," said Dmitriy Nikitin, CEO of Fonon. "Unlike other products, which are often simplistic and sometimes not even safe; we have invested the effort, the degree of difficulty, and the vision needed to build our Laser Cleaning Equipment with full compliance to OSHA, FDA, CDRH conforming to Class 1 Laser Safety "Push a Button" Industrial Operation. We are proud that our advanced line of CleanTech products is unmatched in the industry for meeting safety requirements and turnkey operation." 
Dr. Nikitin continued,"We've already started booking orders for the first U.S.-based line of industrial laser cleaning equipment and the applications are endless; whether it's aerospace depainting, marine rust removal, automotive pre-welding ablation, or hi-tech parts cleaning for bonding applications."
Made in America, Laser Photonics' CleanTech product line can be used for various applications across a multitude of industries including:
·            paint and epoxy removal for items such as aviation parts
·            mold cleaning for the rubber and tire industries
·            weld preparation
·            metal parts cleaning
·            anodizing removal
·            surface conditioning for better adhesion
·            corrosion removal for items such as surgical instruments
·            rust removal
·            degreasing
Included in the line are the CleanTech Megacenter Stationary Unit; and the portable CleanTech Handheld which is useful in the field or on the factory floor. The CleanTech systems offer Class 1 enclosures for Class 4 lasers.  Additionally, CleanTech has an integrated dust and residue collection system and can allow for a 3D scanner option to clean parts with complicated shapes. To learn more, visit http://www.laserphotonics.us/
About Fonon
Fonon Corporation is a laser-based R&D and manufacturing company, based in the United States, that provides comprehensive design and equipment to numerous industries worldwide including aerospace, automotive, defense, energy, food and beverage, industrial, medical, and semiconductor. Laser Photonics™, a Fonon brand, is the industry's recognized #1 brand of industrial-grade fiber and CO2 laser equipment for marking, cutting, engraving, and surface cleaning or preparation. 
Fonon customers include Sony, NIKE, 3M, Delphi, NNSY-Norfolk Naval Shipyard, NASA, Cannon Air Force Base, Eaton Aerospace, GE, Caterpillar, Harley Davidson, PPG, Eli Lilly, Smith and Nephew, Millipore, DuPont, Bosch, Gables Engineering, Champion Aerospace, Smith Aerospace, Metaldyne, Dupont and Heraeus.  For more information about Fonon, visit www.fonon.com.
###
Source: Fonon Corporation
---
Categories: Engineering, Aeronautics and Aerospace, Production and Manufacturing, Cleaning
Tags: CleanTech, Flexion technology, Fonon, Fonon News, Laser Cleaning, Laser Cleaning Machine, Laser Cleaning System, Laser Equipment, Laser Photonics, Paint Removal, Surface Preparation
---