Folium Labs Launches Livli Brand Supplements to Help Get the Most From Cannabis Use
Press Release
-
updated: Oct 22, 2018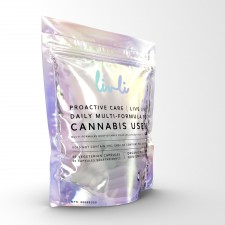 Toronto, Canada, October 22, 2018 (Newswire.com) - Canadian-based Folium Labs, the cannabis wellness company, has launched Livli, a line of nutritional supplements targeting domestic and international markets aimed at addressing nutritional concerns specific to the unique needs of cannabis users addressing cognitive and physical effects.
Jointly developed with Canadian nutraceutical experts Livli, which comes in a pill form, replenishes many of the nutrients lost during regular consumption of cannabis and the overall cannabis lifestyle. Taken as a daily supplement, Livli offsets some of the sluggish effects of long term use.
"If someone is consuming pure cannabis products, the overall experience is excellent," commented Dmitri Boudovitch, CEO of Folium Labs. "On the recreational side, it's the ideal product. There's no crippling hangover and it doesn't contain calories. Cannabis in itself may not necessarily make you feel drained, but irregular meal and other lifestyle changes may take its toll. In fact, according to a recent Health Canada survey, over 60% of Canadians report some kind of drawbacks after cannabis use. We created Livli to help regular cannabis users get the most from their lifestyle choices by helping to offset some of that imbalance."
"With the legalization of recreational usage in Canada, the market is all about the highs," continued Boudovitch. "However, there are a lot of people who want to understand the other side – the lows. What do they look like? And more importantly, how does one manage them? Livli is not only a solution but also an interactive informational repository. Our very own Dr. Ana is on hand to address these questions and help this growing community of cannabis enthusiasts stay positive longer."
​Livli is a daily organic and non-GMO supplement that contains no CBD or THC. Adding Livli to one's daily routine will help users to feel shar, focused and more energetic. Livli contains anti-oxidants that support a healthier functioning liver, lungs and heart and works to drive better overall metabolism.
Today, Livli is offering customers to be amongst the first to receive the supplement through a sign up option. Those who sign up will be able to have early access to Livli products when they ship in January 2019. For more information about Livli and to sign up for pre-orders, please visit www.livelivli.com.
About Folium Labs Inc.
Folium Labs Inc. is a Canadian based biotechnology and consumer products company focused on the development of innovative cannabinoid-based formulations. Alongside a research team with over 50 years of combined experience in the pharmaceutical design and drug development fields, Folium also works to develop supplements to optimize the overall cannabis experience. Utilizing the latest advances in the cannabis research and delivery systems, Folium is poised to pioneer a new non-smoking proprietary technology to modulate beneficial pharmacological properties and to improve bioavailability of cannabinoids.  For more information, visit the Folium Labs website at https://www.foliumlabs.ca
Press Contact
Rinita Barua
​rb@LPAD.ca
+1 (888) 978-7430 x704
Source: Folium Labs
Share:
---
Categories: Cannabis
Tags: Cannabis, Cannibis Nutritional products, Folium Labs, Livli
---