Focus GTS Supplies Miami's Most Sought-After Talent
Entrepreneurial Journey of Building a Tech Recruitment Agency
Press Release
-
updated: Jul 8, 2019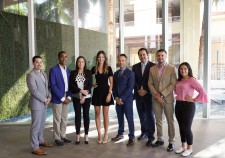 NORTH MIAMI BEACH, Fla., July 8, 2019 (Newswire.com) - It's been over a year since Brittany and Dave Fox repurposed the second bedroom of their home to serve as Focus GTS' first office. Since then, they have already made a name for themselves as a top tier IT recruitment agency.
Focus GTS is partnering with top companies in South Florida to bring in the most sought-after talent and skilled specialists in the Data Science, Artificial Intelligence, Business Intelligence space, along with Digital Marketing technologies. "We saw South Florida as a prime opportunity to align with companies building out their technology teams. We are constantly asking ourselves, 'How we can add more value to our clients?' Anybody can supply candidates, but we seek to supply the most sought-after talent in the most efficient way possible and over delivering by continually adding more value," said Dave Fox, Focus GTS CEO and founder.
The agency is now a nine-member team, operating from their official headquarters in the brand new Canal Park Building in North Miami Beach, supporting South Florida's booming tech scene. In the next year alone, they plan to expand the company with 30 new employees. Since Focus GTS' founding, the agency has built a team of 17 for one of the largest companies here in Miami. 
"Focus GTS has been a crucial partner in helping us find the best AI and Data Science Talent for our team," says one of the directors. "With the aggressive growth plans within our team, getting the right people on board on time is extremely important to us, and as such, Focus GTS has been an integral factor in our people strategy."
Looking to the future, they plan on continuing in their endeavors to supply the most qualified individuals to companies building out their technology teams around the United States. 
Focus Global Talent Solutions is a specialty IT staffing firm with a focus on three core areas of technology. The sectors we focus on are Artificial Intelligence/Data Science, Digital Marketing Technology, Analytics/Business Intelligence.
Source: Focus GTS
---
Categories: Information Technology
Tags: Florida, Focus GTS, Miami, Recruiting, Recruitment, Tech News, Tech Recruitment, Technology
---