FNBD Promotes John Nichols, Ashley Forman & Justin Holt to New Leadership Positions
An Historic Bank. A Vision Of Growth. Local Leaders Making It Happen.
Press Release
-
updated: Feb 24, 2017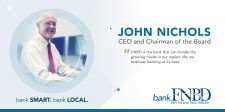 Lake Charles, Louisiana, February 24, 2017 (Newswire.com) - JOHN NICHOLS PROMOTED TO FNBD CEO & CHAIRMAN OF THE BOARD
FNBD is proud to announce the promotion of John Nichols—formerly FNBD's Regional President of Calcasieu Parish—to CEO & Chairman of the Board. John Nichols stepping into this enhanced leadership position folds nicely into the growth and stability that FNBD is experiencing as it expands its historic Beauregard Parish roots to the highly-active Calcasieu Parish region. John Nichols' skilled leadership and banking experience bond seamlessly with the FNBD brand, at the same time outlining a fresh vision of prosperity and growth. Nichols joined FNBD in 2014, bringing with him over 36 years of banking experience. While operating as FNBD's Regional President, he also served as a member of the Board of Directors and Chief Credit Officer. John Nichols' banking experience is rich, working with 30 million-to-300 billion dollar banks, and as CEO of FNBD he will put this diverse experience to work immediately. "FNBD has over 80 years of impressive banking history. Our team will continue to build on that," says Nichols. "We have a unique banking culture at FNBD, and we have the expertise and capability to serve this growing region. We are service oriented, and with ongoing effort and innovation FNBD will continue to provide the best banking team around. That attracts the best customers. This fusion will make FNBD the best bank in Southwest Louisiana." John is a graduate of LSU in Commercial Banking, and has received diplomas from Graduate School of Banking at LSU, ABA National Commercial Lending School at the University of Oklahoma, GSBS Shesunoff Masters in Banking, and AIB.
ASHLEY FORMAN PROMOTED TO FNBD REGIONAL PRESIDENT OF CALCASIEU PARISH
Ashley Forman has been promoted to the position of Regional President of Calcasieu Parish. Forman formerly served FNBD as the Branch Manager of the Nelson Road-Lake Charles location and held the title of Vice-President.  Ashley has been a vital player in the establishment, branding, and growth of FNBD in Calcasieu. Ashley Forman joined FNBD in 2014, bringing her 18+ years of banking experience to the historic bank.  She brought with her the knowledge and expertise to develop out FNBD's cash management services and commercial products that are tailored to fit the needs of each business client, making FNBD known for leading edge technology with superior service.  Ashley introduced FNBD to sophisticated consumer lending products, positioning the bank for continued loan growth.  Ashley's leadership and passion for people make her ideal to serve FNBD in the expanded Calcasieu region.  Forman's vision for developing talent and team building will help FNBD recruit and cultivate top talent as the bank continues to grow.  Forman specializes in commercial and small business lending, consumer and mortgage lending, and interim construction financing.  She has extensive experience in these areas as well as commercial cash management products, including ACH processing and remote deposit capture. Ashley attended McNeese State University and has additional training and certifications, including her Commercial Lending School Certification from the LBA.  Ashley has formerly served on the SWLA Law Center Board as President and currently serves on the Board of the Sulphur Christian Community Coalition.
JUSTIN HOLT PROMOTED TO FNBD REGIONAL PRESIDENT OF BEAUREGARD PARISH
One of John Nichols first acts as CEO of FNBD was creating the new position of Regional President of Beauregard Parish. This position is now occupied Justin Holt who has been promoted from Chief Lending Officer. Justin Holt joined FNBD in 2008 and has been a highly effective member of the FNBD management conclave. Holt has loaned over $250 million dollars in the SWLA during his tenure at FNBD and strives to provide the best customer service and overall banking experience possible. Holt established the FNBD Secondary Residential Mortgage Department in 2008 and has been recognized nationally as a top producer several years in a row.  Holt will continue to oversee the continued success of this division of the bank. The expanded overview of the new regional position is the perfect fit for Holt. Justin specializes in commercial lending, mortgages and small business lending. He graduated with honors from DeRidder High School and holds a Bachelor of Science Degree in Management from McNeese State University.  Holt has completed the Graduate School of Banking at LSU and is currently attending his second year at Stonier Graduate School of Banking Leadership at the University of Pennsylvania. He is an active board member of the Rotary Club and has served as President. Holt has also served the Beauregard Delta Waterfowl Chapter as director/treasurer for the past several years.
RONALD NICHOLS TO SERVE FNBD BOARD OF DIRECTORS
With John Nichols accepting the position of Chairman of the Board, previous Chairman Ronald Nichols has graciously agreed to continue membership on the Board of Directors. The FNBD Board of Directors asked that Ronald Nichols remain in service, continuing to offer his years of wisdom, experience and guidance.
Source: FNBD
Share:
---
Categories: Consumer Banking, Banking, Finance, Insurance, Business
Tags: banking, beauregard, business, calcasieu, finance, lake charles, lending, louisiana, real estate, southwest louisiana
---