FLS VISITOUR Scheduling Solution Enables British Engineering Services to Improve Productivity by 15%
Scheduling software achieving excellent benefits for risk and compliance engineering inspections company
Press Release
-
updated: Nov 7, 2018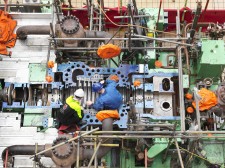 BERKSHIRE, England, November 7, 2018 (Newswire.com) -  Fast Lean Smart (FLS) is helping British Engineering Services to cut down travel and administration time through use of it's leading appointment, scheduling and route optimisation technology.  ​
British Engineering Services is the U.K.'s largest independent engineering inspection, testing and certification company and has a long history dating back to 1859. Customers include all kinds of businesses, from factories to nuclear power plants, from hospitals to schools. Until 2015, it was part of RSA, one of the world's leading insurance groups and an FTSE 100 company, but is now established as a privately owned company.
Today, British Engineering Services employs 450 highly trained and qualified engineer surveyors and consultant engineers who perform 2.8 million inspections per year. Its customers benefit from state-of-the-art technology and excellent online reporting systems that can deliver information quickly and efficiently.
Never standing still
"We constantly review our performance and look for ways to exceed customer expectations," says Stephen Doyle, operations development leader for British Engineering Services. "We pride ourselves on having some of the best people in the industry working for us. Many of our staff have been involved in engineering inspection and certification for decades. It is this deep knowledge and understanding of our customers' requirements that has shaped our business and led us to working with FLS."
The right engineer for the right job at the right time
FLS' flagship solution, FLS VISITOUR, helps to match availability with customer demand. The software automatically schedules inspections for the entire engineering team and selects the right engineer with the right skill set for the right job. Through customisable variables, the FLS solution consolidates multiple inspections due at one site into a single visit. It also uses advanced mapping software to choose the most efficient routes to each appointment, including consideration of traffic at the time-of-day. FLS VISITOUR will ensure that each appointment is the best fit for the customer, the engineer and British Engineering Services as a whole.
Stephen explains, "We looked at lots of different scheduling solution providers, but none of them gave us the flexibility that we wanted. Then we found FLS, who offered a highly configurable system and made every effort to understand our company, our data, and deliver what was right for us and our customers. They also demonstrated what their software could do with initial data tests and a 'try before you buy' trial. This was a big reason why we chose them."
The initial findings from FLS VISITOUR clearly demonstrated a significant reduction in travel time but also the added benefit of reduced admin time for the engineers by enabling the introduction of a central planning team to arrange the inspections.
Stephen says, "The trial proved the efficiency and productivity-fuelling benefits of FLS VISITOUR, but it also helped us prepare for the full implementation. We learned what to do, who to involve and how to make the transition as smooth as possible for our people."
Inspection timing and risk management
British Engineering Services take safety and compliance very seriously and have unsurpassed engineering inspection certification accreditations and memberships. Inspections are planned in advance to give the customer notice and allow any access issues to be addressed before the day.
One of the business challenges is that inspections performed too early would bring subsequent inspections forward which increases costs, but overdue inspections could create a safety and compliance risk. The fact that FLS VISITOUR manages this timing and enables the coordination of multiple inspections in one visit is not just beneficial in reduced travel time and costs, it is also less disruptive for its customers whilst ensuring safety standards are met.
Working in partnership
"We've found the whole team at FLS really helpful and approachable and feel this is a genuine partnership that continues to improve our efficiency and quality of service," Stephen explains. "They're always available when we need them and regularly review the rules and settings within VISITOUR to ensure we are meeting our own customers' expectations in the best possible way. I cannot recommend FLS highly enough."
The Strategic View
Paul Hirst, managing director engineering inspection, says, "FLS have proven an outstanding partner since we began together in 2015. The FLS VISITOUR advanced scheduling solution is at the heart of our business strategy for field engineering efficiency whilst delivering the best customer experience. We are achieving up to 15 percent increase to productivity and in our business, that is huge."
MEDIA CONTACT
Jeremy Squire - UK Managing Director
Email: Jeremy.squire@fastleansmart.com
Telephone 0044 7976 105027
Source: Fast Lean Smart (FLS)
Share:
---
Categories: Facilities Maintenance & Management, Customer Relationship Management
Tags: FM engineer scheduling, inspections scheduling, real time scheduling
---